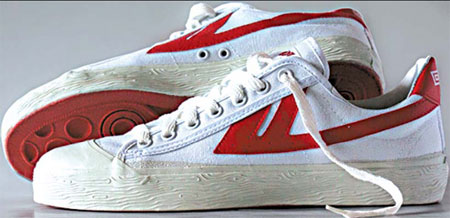 They gained worldwide exposure when 2008 Shaolin monks wore them during the Olympics Opening Ceremony.
And next year, they will gain another PR coup when Hollywood A-lister Orlando Bloom wears them in several scenes for his new movie.
From humble beginnings 88 years ago, the Huili sneakers (known as Feiyue overseas) are blazing a trail for Chinese fashion.
Long seen as a shoewear leader for martial arts performers, the white trainer is now making giant strides in the mainstream market.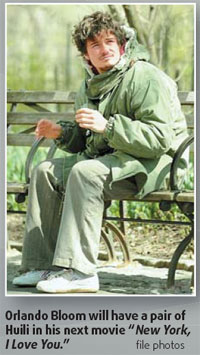 They are regularly featured in fashion magazines across the world and French iconic publication Elle went so far as to describe them as "a must have" fashion item.
With its soaring profile comes a hefty price tag - widely available in China for a few bucks, you can expect to pay upwards of $50 online or in some of the world's trendiest stores.
The Chinese might well be wondering what the "overnight success story" is all about for they have enjoyed decades of popularity here. Born in Shanghai in 1920, the rubber thread sneakers have adorned the feet of all sectors of society, from farmers to politicians and from the captain of the national soccer team to the famous Shaolin masters.
They became known for their strength, flexibility and comfort, essential requirements for Chinese martial arts. They also won favor among many Chinese athletes and prominent coaches like Xu Genbao, Qi Wusheng and Su Yongshun even ordered their players to wear them during trainings.
Their ascent towards universal acceptance has not been smooth, though. As Western brands began infiltrating the Chinese market, the once-dominant shoe was gradually replaced by expensive international brands like Nike, Adidas and Converse. More and more Chinese youngsters suddenly regarded the humble Huili as too outdated and cheap and it was relegated to cities' roadside stands and remote counties. The once-cool shoes had hit rock bottom, worn only by poor migrant workers and farmers.
The year 2005 was the turning point and the resurrection was thanks largely to one imaginative Frenchman. Patrice Bastian, a globe-trotter living in Shanghai and a die-hard sneaker freak, stumbled upon a pair of Huili by the street. Immediately struck by their classic touch, he resolved to introduce them to the world.
Bastian teamed up with graphic designer Charles Munka to jazz up their image built a team to refine and market them. Striving for a balance between bringing them into the 21st century while retaining their classic touch, the next step was ensuring the high quality demanded by Western markets. The newly-designed Feiyue became a slimmer model with a thicker canvas and offering various color choices. New versions with high platforms were also invented. All the new collections were given names with strong Chinese flavors, like Shaolin and Er Dang Jia. They were an immediate success among Westerners who had never heard of them before.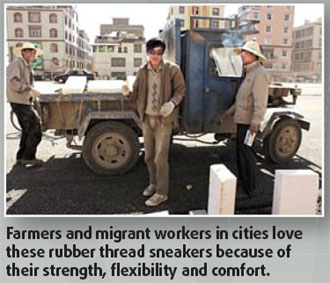 But for most Chinese customers, meanwhile the original shoes are still their preference. "Because it best suits the conditions in China," says Hong Che, a loyal fan of Huili who has worn the trainers since childhood: "For instance, professional football shoes with nails are usually used on grass fields but as such fields are not common in China, Huili shoes, with their soft but robust soles, excellent ventilation and humanistic design, is great for all players. "
"Huili shoes represent the trend that today's people return to for comfort," says Liu Wei, director of the China Fashion Designers Association. "Just like wearing an old military hat and costumes has been fashionable, Huili, with its unique vintage touch, is the best accessory to show one's taste and to build your cool image," Liu says.
There are quite a few places in Beijing where you can buy the original Huili shoes, including Lisheng Sports Products Store, Jin Wu Xing Wholesale Market and Wan Tong Market.
Meanwhile, keep an eye on Orlando Bloom's next movie "New York, I Love You", which is due out early next year. You will probably be focused on its mind-boggling cast of Hollywood actors but there's a cameo role in there that China can be proud of.