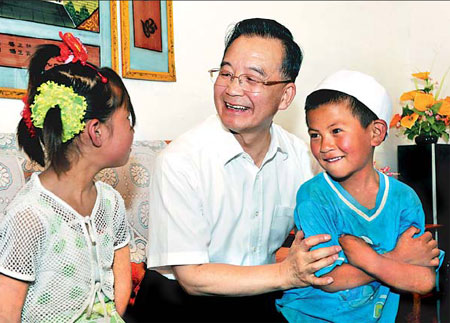 Premier Wen Jiabao chats with two children during a visit to Wanya county, Ningxia Hui Autonomous Region, on Saturday. Wen wrapped up a three-day inspection of the region yesterday. [Xinhua]


The environment must remain a top priority as the country forges ahead in its development, Premier Wen Jiabao said during a visit to an industrial base in the Ningxia Hui Autonomous Region over the weekend.
Wen cited the coal-rich Ning Dong industrial area, earmarked to become a major power-generation base, as one example under the ongoing green drive.
"We will not only build a coal, chemical, and power base, but also develop a recycling base here," Wen said while visiting the Ning Dong Energy and Chemical Industrial Base.
The premier's three-day visit, starting last Friday, came two months before the 50th anniversary of the founding of the autonomous region, which took place on October 23, 1958.
Lying about 60 km to the southeast of Yinchuan, Ningxia's capital, the construction of the Ning Dong base was named the region's "No 1 project" in 2003, with its largest power base situated in the area.
Explored coal reserves in Ningxia are reportedly 31 billion tons alone, while estimated coal reserves are 200.7 billion tons, ranking sixth and fifth, respectively, in the country.
While Ning Dong' explored coal reserves form 88 percent of the region's total, the large supplies have also posed a major challenge to environmental protection in the area.
During his visit to the base, Wen said building a recycling economy is a key feature of industrialization in these times.
"Apart from outstanding quality, technology, and efficiency, we must reach the same high standards in conservation," Wen told workers, adding that they should pay special attention to water conservation.
During his stop on Saturday in the Pengyang township of Guyuan - a major impoverished city in south Ningxia, Wen told officials that they must have a comprehensive plan to achieve a coordinated approach in economic development and environmental protection.
Water shortage is a major a problem facing Ningxia, where the southern regions are covered by desert and highland.
Pengyang also suffers from serious water and soil erosion. Eroded land stretched over 2,333 sq km, forming 92 percent of the township's total area, in 1983.
Since then, the area has enhanced efforts to build an "ecological township", in part by encouraging tree planting. By the end of last year, its total forest coverage hit 1.24 million hectares - growing by more than seven times in the past two decades.
"A long term blueprint and the determination to treat ecological problems is needed in order to improve the environment here and help improve local farmers' lives," Wen said.