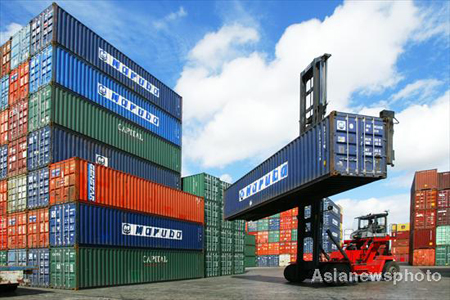 To borrow a well-worn clich, this is the worst of times and the best of times for China's logistics industry.
Rising fuel and labor costs are cutting deep into the earnings of many transportation companies, their problems compounded by falling demand because of the slowdown in export growth.
But the increasingly complex export trade pattern, leaning more toward small orders and quick turnaround time for higher-value-added goods, is creating a strong demand for sophisticated, high-profit logistics services that involve inventory control and timely delivery of parts and components.
Industry experts predict that escalating costs will force the logistics industry into a massive restructuring. In the process, many smaller and weaker companies will either close or get absorbed by the bigger players to form large entities with the financial resources and operational expertise to offer a variety of high-value-added services.
Battling through
With energy costs persistently on the rise and mounting inflationary pressures, China's logistics sector is suffering a steady fall in profit margins that may herald a possible reversal of the past decade's growth momentum.
Gone are the days when a transportation company with only 20 people and half a dozen trucks could make 2 to 3 million yuan a year. The average profit margin of the transportation sector, according to statistics of China Federation of Logistics and Purchasing (CFLP), has been squeezed to no more than 2 to 3 percent, plunging as quickly as oil prices surge.
In a move to ensure oil supplies, China raised diesel and gasoline prices by 18 percent last month, the first such increase in eight months and the biggest ever. It means, however, that fuel spend has been driven to reach 40 percent of the total transportation costs, forcing major transportation agents to the verge of bankruptcy. Industry insiders say their profit margin is likely to be squeezed further as overall operational costs continue to surge.
Take the express delivery market for example: many domestic couriers have reported net losses and are struggling to make ends meet. Amid the tens of thousands of local competitors offering increasingly lower charges, domestic delivery companies are also battling leading foreign couriers who are also shedding their prices progressively to secure a slice of the big market pie.
Deteriorating US demand and the slowdown in the world economy has further dented the industry's outlook, as China's export sector is noticeably down with a slackened growth rate and disturbing implications for the logistics sector.
China's trade surplus in the first half of this year fell 11.8 percent to $99 billion from a year ago amid declines in international trade growth triggered by the global economic slowdown as well as the government's efforts to curb exports of resource-intensive and heavily polluting products. For related logistics service providers, the impact has been acute.
"We've suffered a 10 to 20 percent decrease in sales revenue in the first half of this year amid the export slump," says Chu Zhenzhong from the marketing department of CTS, a Shanghai-based sea freight forwarder. The company has also had to deal with rising currency risks, with a steady yuan appreciation, he said.
For Tom Song, vice-director at the marketing department of Shanghai Pudong Trucking Corporation, the continuous export plunge has induced a higher vacancy rate for his company's fleet, recently hitting 15 percent. The average vacancy rate of truck runners in China, according to industry insiders, has reached about 40 percent.
"What complicates the situation is that there have been frequent adjustments in clients' orders given the growing uncertainty in the export sector, and our sales revenue has in turn dropped by 8 percent," Song says.