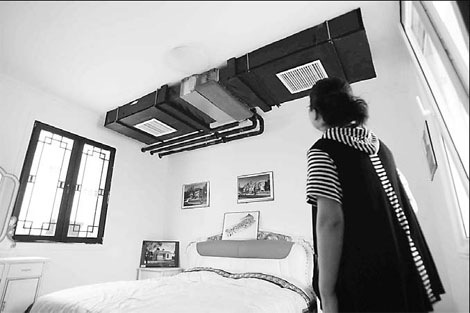 Visitors check out energy-efficient apartment designs at an exhibition in Beijing. [China Daily]


As environmental living becomes synonymous with high-end living, green buildings are making headway in China's construction industry as a solution for both environmental protection and market differentiation.
Motivated by the prospect, a small number of real estate developers in China are working to develop the Chinese concept of "green" and feed the growing demand among middle-class Chinese and foreigners for healthier living and working environments.
Embracing such a corporate strategy for the development of sustainable buildings, Shenzhen-based infrastructure and property developer Shenzhen Fountain Corporation has aligned itself with the green building industry in China. The company will develop LEED-registered residential buildings in Zhuhai in Guangdong province and Changsha in Hunan province, in order to bring world-class environmental standards to more Chinese people.
The LEED (Leadership in Energy and Environmental Design) Green Building Rating System is an internationally accepted rating system and benchmark for evaluating and certifying sustainable sites, water and energy efficiency, material selection and indoor environmental quality.
The United States Green Building Council, a non-profit organization committed to sustainable building design and construction, developed the LEED.
The Shenzhen developer will cooperate with a US-based green building and design consulting firm Environmental Market Solutions Inc (EMSI) for LEED consulting and certification services for both projects.
With LEED certification, buildings are expected to bring both environmental and economic benefits. They can save 20 to 60 percent on energy consumption and enhance indoor comfort. With such returns-on-investment, LEED-certified buildings are highly competitive with other projects although they are comparatively pricier to build, says Zhou Yan, project manager from EMSI.
The incremental costs for the construction of LEED-certified buildings depend on different levels and may vary from 5 to 15 percent or more of the original estimate.
But by going green developers can build a competitive edge, which showcases their international status as well as environmental responsibility, says Zhou.