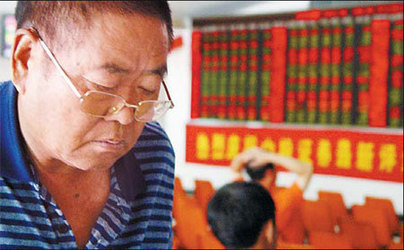 An investor monitors price changes at a securities house in Haikou, Hainan province. The Shanghai Composite Index dropped 1.24 percent to close at 2669.89 on Friday. [China Daily]


More than half of Chinese individual investors said they remain confident that the stock market will recover, despite suffering consecutive slumps in share prices in July, according to a survey conducted by Shanghai Securities News and Stock Star website.
Over 60 percent of people surveyed said they believed the government would soon take effective measures to save the market following commentary published by the Xinhua News Agency on Tuesday which stressed that the country's economic development would bolster the stocks.
Sun Pei, a 40-year-old cashier, did not participate in the survey but did share the same optimism despite the fact that she has lost half of the 1 million yuan she invested in Chinese stocks.
"I remain optimistic because the government has shown concern about the poor performance of the stock market," she said. "It means that they (the authorities) are considering taking effective action to reverse the bear trend."
The relationship between investors' sentiments and governmental actions has always been strong, said Mao Nan, an analyst from Shanghai-based Orient Securities. There are definite signs showing that market sentiment is improving, he noted. "The climbing numbers of newly opened fund accounts in the past week proves the boost of investors' confidence," Mao said.
He added that although the profit rise of listed companies fell to 20.9 percent from January to May this year, the net revenue is still expected to have a hike of 30 percent from last year.
The securities regulator introduced measures to reduce the release of previously locked-up shares onto the market on April 20 this year.
"Such acts will help relieve the market concern about the oversupply of freed shares, which will lift our aspiration to another bullish market," said a 24-year-old investor Jin Ling from a trust company.
The possible strong rebound of small-cap stocks is also likely to inject a stimulus to the weak stock market sooner or later, analysts said.
China's stocks have entered the seventh week of consecutive decline amid the long-term optimism of the market from investors. The benchmark Shanghai Composite Index fell 1.24 percent to close at 2669.89 on Friday, with 474 of 907 stocks closing down. The Shenzhen Component index climbed 0.03 percent to close at 9400.72.