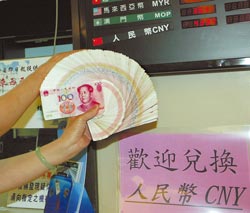 Taiwan will allow 14 financial firms to offer exchange services in renminbi, to tap an expected surge in demand after the signing of a landmark tourism deal with the Chinese mainland.
The 14 financial firms, including the banking arms of Cathay Financial, Chinatrust, Fubon Financial, Yuanta Financial, Mega Financial, Chang Hwa Bank, First Financial, and Land Bank of Taiwan, were allowed to buy and sell renminbi, as of Monday morning.
Also included in the scheme are more than 40 of the island's hotels and 15 department stores, which can only buy renminbi in exchange for the Taiwan currency.
On June 13, the mainland and Taiwan signed a landmark deal which will permit regular, direct weekend charter flights between the two sides and let mainland tourists visit the island in large numbers.
That influx is expected to create a big new demand for Taiwan dollar from yuan-carrying mainland tourists coming to the island.
The two currencies were previously not exchangable through official channels, except for in small amounts on several of Taiwan's outlying islands.