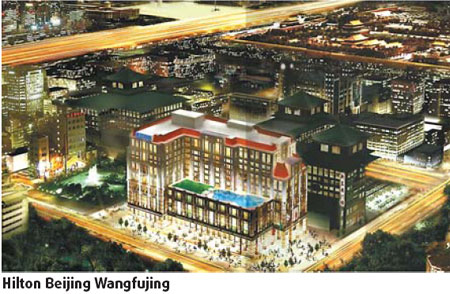 The Beijing Olympic Games are sparking fierce competition among the hotel groups that are sprinting to either open new properties or spruce themselves up by August.
Twenty years after entering the Chinese mainland, the US-based Hilton Hotels, which has five properties in China, is readying two more in Beijing. Hilton hopes to open one by late June or early July.
Marriott International, another American hotel giant is also in the race. Since late 2007, Marriott has opened three hotels in the capital under the JW Marriott, Courtyard and Ritz-Carlton brands and increased its Beijing portfolio to seven. It is preparing to open two more, a Renaissance and a Marriott, in July.
United Kingdom-based InterContinental Hotels Group also says eight more of its hotels will open this year in Beijing. The group already has nine hotels in Beijing.
Besides the new openings, a slew of existing upscale hotels in Beijing, including New World Jing Guang Hotel, China World Hotel Beijing and Shangri-La Hotel Beijing, also have redecorating and or expansion work scheduled for completion before the Games begin on August 8.
"The Olympics is absolutely a golden opportunity, nobody would like to miss promoting themselves," says Lin Yuan, director of sales and marketing with Novotel Beijing Sanyuan.
The four-star hotel under the French hotel group Accor will hold its soft opening on August 1. "This is designed for the Olympics," Lin says.
Official statistics predict that during the 17-day event, more than 7 million travelers from home and abroad will visit Beijing for the Games and nearby tourist sites. Among them will be about 50,200 athletes, international workers, journalists, sponsors and their business clients who will be accommodated by 112 local hotels, including three-star hotels and above, appointed by The Beijing Organizing Committee for the Games of the XXIX Olympiad (BOCOG) as the official host hotels.
But they are merely a tiny part of the mix. Most of the visitors mean enticingly big business for the Beijing hotels and what they are struggling for.
For each officially appointed hotel about 70 percent of the rooms have been reserved by the BOCOG. Set by Beijing tourism-related organizations, the room rates will range from $180 to $350 per night, about 1.4 to 1.8 times higher than the usual rates. But the remaining 30 percent can charge what the market will bear, and their prices are said to be from three to eight times higher than usual.
"Everyone is working overtime to grab the guests," says Lin.
They have to because the competition is getting fiercer with so many new hotels seemingly going up overnight.
In Beijing's most bustling and hotel-intensive area, the Central Business District (CBD), JW Marriott Beijing and The Ritz-Carlton Beijing opened in November 2007, followed by the Grand Millennium Beijing in April and others. Around Wangfujing Avenue, a major shopping area, with Hilton Beijing Wangfujing and Legendale Hotel Beijing joining in, 10 new hotels will open. In the business area of Sanyuanqiao, north of the CBD, nine hotels will be opened before the Olympics.
"It's a hard battle. But better products and services will separate us apart," says Sally Su, assistant manger of communications at the Lengendale Hotel Beijing.
Everyone has different styles and gimmicks. The newly established five-star Lengendale that will open in July is European style, reflected in its interior and exterior decor, which Su believes makes it stand out from its Beijing peers. Some new establishments expect to attract the guests with hi-tech gadgets. Hilton Beijing Wangfujing and Novotel Beijing Sanyuan have iPod docking stations in each room. Others bet on superb service, such as Marriott, which has long focused on developing and training its people for service it believes is a cut above other hotels.
A good sales strategy is also important. And the international hotel groups with strong global sales networks enjoy advantages over their domestic counterparts, says Su.
The hotel is owned by a Macao investor and managed by a Chinese, not an international hotel group. "Without a global network, it is really difficult to get them (guests), especially those from overseas," Su says.
But not any hotel group is short sighted enough to bank on just the Olympics. Sustainable economic growth is their goal.
The Beijing Tourism Bureau has predicted that the Beijing tourism industry will continue growing, unlike the post-Olympics slump suffered by other host countries such as Greece.
The number of overseas guests is predicted to grow at around 30 to 60 percent annually, rising to a peak in 2010, and the average occupancy rate will increase to more than 72 percent in 2009, the tourism bureau believes.
"We are not worried about the post-Olympics," says Su.