Oil and electric power companies led the mainland stock market to a slight recovery yesterday, as investors expect the government to loosen price controls on the public utility sector.
SDIC Huajing Power Holdings Co Ltd soared 9.98 percent to close at 10.36 yuan, and Huadian Power International Corp surged 9.49 percent. Sinopec climbed 0.67 percent to close at 13.62 yuan.



The benchmark Shanghai Composite Index rose 0.75 percent, or 25.69 points to close at 3459.04. The Shenzhen Component Index climbed 0.07 percent, or 9.01 points to close at 12057.25.
The turnover on two bourses amounted to 90.9 billion yuan, down 4.9 percent from last Friday. The total market capitalization was 22.59 trillion yuan.
Analysts said that the government is expected to relax the price controls on the oil and electric power sectors because of the possible declining consumer price index (CPI) growth for May.
"The inflationary pressure in May is expected to have eased, and those oil and electric power companies may be allowed to raise prices and the government may increase the subsidy amount in those sectors," said Wu Feng, an analyst at TX Investment Consulting Co Ltd.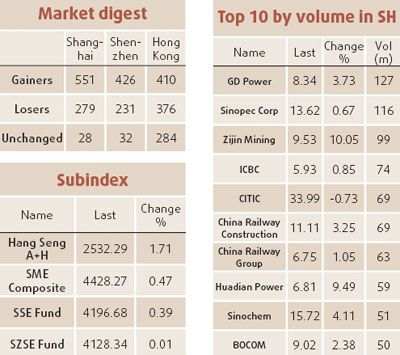 Most analysts predicted the CPI to jump around 7.5 percent for May, lower than 8.5 percent in April.
Shares of steel companies dropped slightly, after the US Department of Commerce said it would impose an exceptional high import duty of about 700 percent on major Chinese steel pipe producers.
Shares of Baoshan Iron and Steel Co Ltd tumbled 1.54 percent, and Baotou Steel Union Co Ltd dropped 0.73 percent.
"The possible high import duty is expected to have little impact on steel companies' earnings because the steel pipe exports only account for around 1 percent of total steel production," said Zhou Tao, analyst at Sinolink Securities.
Meanwhile, the China Securities Regulatory Commission quickened the pace for the launch of initial public offerings, which is expected to further squeeze the market liquidity.
China Construction Corp, the country's largest housing construction company, announced last Friday that it plans to issue no more than 12 billion A shares in Shanghai to raise over 40 billion yuan.
Shanxi Provincial Natural Gas Co Ltd said it plans to issue 100 million A shares on the Shenzhen Stock Exchange.