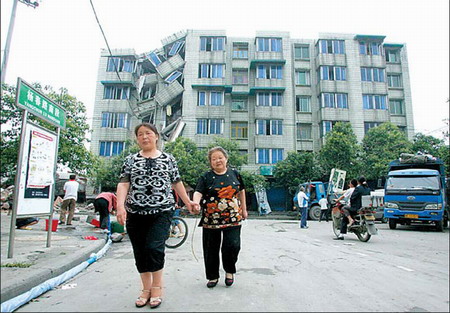 A residential building destroyed by the earthquake in Shifang county, Sichuan province. [China Daily] 


The May 12 earthquake could cripple Sichuan province's property market in the short term by dampening consumers' will to buy and reducing investment-oriented purchases, industry experts said.
BrilliantStone, a Beijing-headquartered real estate research and advisory firm, said the "psychological shadow" hanging over the economic losses in Sichuan and Chongqing could diminish enthusiasm for purchasing property in the area.
Yang Hongxu, deputy director of Shanghai-based E-house Real Estate Research Institution, said the quake would also largely reduce investment-oriented purchases in quake-affected areas, putting greater pressure on property prices in the region.
But Bohai Securities analyst Zhou Hu said the quake's impact on Sichuan's property market would be limited.
Most leading property developers only have projects in the provincial capital Chengdu, and few have projects in the nearby counties most devastated by the quake, Zhou said.
In addition, these counties - Wenchuan, Maoxian, Beichuan, Qingchuan and Dujiangyan - haven't traditionally been hives of market demand in the region, he added.
"So while the earthquake would weigh on property sales in Sichuan and Chongqing in the short term, it's unlikely it would hex these markets in the long run," Zhou said.
Some insiders believe the quake would instead boost housing demand, because so many homes were destroyed in the disaster.
Tremors felt
Chengdu is a bridgehead for national real estate companies' expansions into Southwest China, and most firms have been scrambling to snap up land parcels in the provincial capital. However, the earthquake also affected their business in the city.
An Orient Securities report said that among listed property developers, Vanke will be most affected by the quake, because it has numerous projects in Chengdu.
"Vanke has seven projects under construction in Chengdu this year, with completed acreage expected to exceed 600,000 sq m. So far, more than 200,000 sq m have been sold, but the sales process would slow, and the price would also drop," the report said.
R&F Properties President Zhang Li told media earlier the earthquake could shave 100 million yuan ($14.38 million) to 200 million yuan off the company's business but wouldn't change its 24 billion yuan sales target this year.