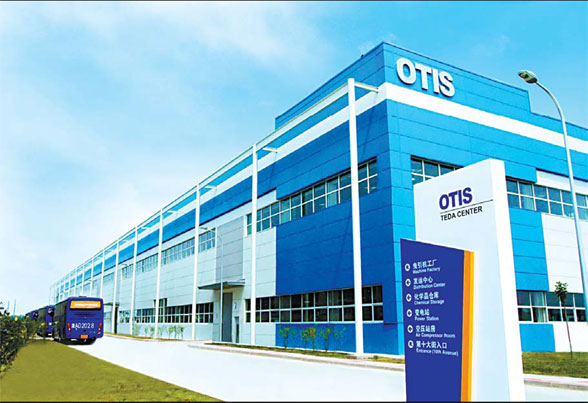 Focusing on China for China. That is the strategy the US-based elevator manufacturer Otis is adhering to in order to expand its business here.
Occupying 27 percent of the global elevator and escalator market, Otis is devoting most of its China production capacity to local consumption, says Lindsay Harvey, president of Otis Elevator Investment (China) Co Ltd.
China is considered the largest elevator and escalator new equipment market in the world - a market Otis has tapped in a big way. Its joint venture with Suzhou Jiangnan Elevator (Group) Co Ltd, the largest independent elevator company in China, was its seventh to date. Elsewhere in the world Otis has elevators in the Eiffel Tower, the Kremlin, the Washington Monument, Madrid's Royal Palace and Japan's first skyscraper.
The China JV company, Jiangnan Express Elevator Company is in Suzhou, a city of 5.7 million people two hours west of Shanghai. Otis' other six joint ventures in China are in Beijing, Guangzhou, Hangzhou, Shanghai, Dalian and Tianjin.
Otis' "green plant" in the Tianjin Economic Development Area (TEDA) is primarily for the Chinese market, with only a small portion of production going to overseas markets.
"About 10 percent of the output is for the Asian market outside China. And the proportion will drop in terms of percentage gradually," Harvey adds.
Otis will triple the production of its TEDA plant, the first eco-friendly manufacturing venture verified by the Chinese government.
Currently, the TEDA plant, which opened last year, has a capacity of 20,000 elevators every year. The expansion plan will result in an additional investment of $100 million by 2012.
The added investment in the plant also goes into training and people, Harvey adds.
The TEDA plant will have a new automatic production line, expected to come on stream very soon to produce high-rise elevators.
The high-rise elevators are being built using technologies introduced from Otis Japan through a joint venture between Otis' China and Japan branches.
China and the Middle East are two major markets for high-rise elevators, with China's market size expected to reaching 3,000 units per year, according to Harvey.
Otis' TEDA plant is also developing key components for other Otis joint ventures with Chinese partners.