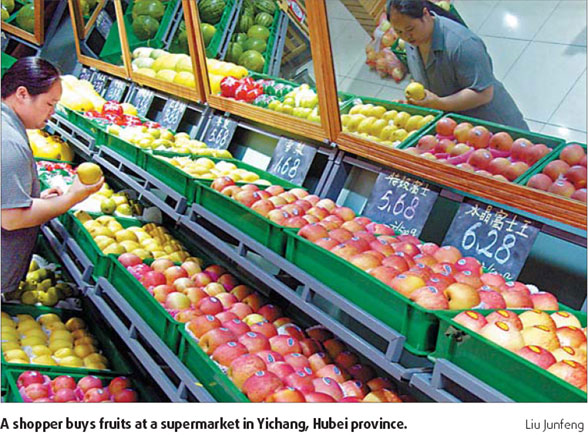 China will give more attention to the problem of rising inflation, said a monetary policy report of the central bank yesterday.
China's growth may slow in the first half of this year due to the global economic slowdown, but so far the economic growth has been better than expected, the People's Bank of China said in its first-quarter monetary policy report.
The central bank said it would use the exchange rate in its efforts to curb inflation, which hit 8.5 percent in April, only slightly lower than the 12-year high of 8.7 percent in February.
"(We will) strengthen the flexibility of the yuan's exchange rate and utilize its role in optimizing resources to hold back rising prices," the report said.
In the first quarter of this year, the yuan rose more than 4 percent against the US dollar, compared with a total of 6.9 percent appreciation for the whole of last year.
Some analysts said the fast appreciation of the yuan would make China's imports of major commodities such as oil cheaper, thus reducing the inflationary pressure.
Inflation will remain high "in the coming period of time", the central bank said. The expected domestic food price rises, the resource product pricing reform, rising labor costs as well as imported price pressures would combine to push up inflation, it said.
The authorities have set 4.8 percent as the target inflation rate this year, but policymakers have expressed concerns that it will be difficult to attain.
Some international investment banks forecast that inflation this year could be between 5.5 and 6 percent, but analysts said it could be even higher.
"Based on the current growth momentum and the market liquidity, it could be even higher than 7 percent," said Chen Gong, chief analyst and chairman of the Beijing-based Anbound Consulting.
The monetary policy has not been very effective in tightening lending and curbing inflation, which could be at least 7 percent this year, said Zhang Jun, director of the China Center for Economic Studies at Fudan University. "It is hard to ward off the effect of imported price pressure."
The central bank also said that given the interest rate gap between China and the US and the uncertain global economic situation, the influx of international speculative capital may increase in the short term, complicating the implementation of a tight monetary policy.