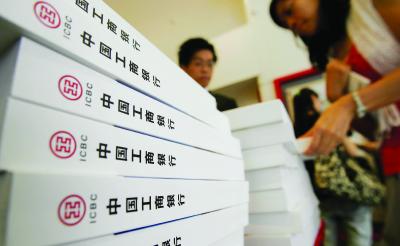 Industrial and Commercial Bank of China Ltd (ICBC), China's biggest corporate bank, is eyeing to set up operations in the Philippines as it hopes to benefit from the country's improving economic landscape.
Finance Undersecretary Gil Beltran said ICBC officials are interested in looking for a local partner to help them with their planned Philippine operations.
"They see the potential of the country. They also realized that we're doing a lot of improvements. As soon as possible, they want to have a partner," Beltran said.
He also said that officials are already asking about the country's tax system and have already met with monetary authorities for their plan.
Beltran met with ICBC representatives Gao Xiangyang, ICBC's head of global and acquisition team and Wang Wendin, deputy general manager.
ICBC was founded in 1984. Since its foundation, the bank has fully undertaken industrial and commercial credits and savings businesses which were originally transacted by the People's Bank of China.
In 2006, ICBC has been successfully listed in both cities of Shanghai and Hong Kong simultaneously.
As the biggest commercial bank in China, ICBC provides diversified, professional financial services to corporate and personal customers. Its corporate customers reached 2.7 million by the end of 2007.
ICBC provides financing services covering international and domestic trading financing procedures for the customers and works out international settlement and trade financing centralized operation schemes.
In 2007, its trading finance from domestic branches accumulated to 223.646 billion yuan ($32 billion), an increase of 132.9 percent.