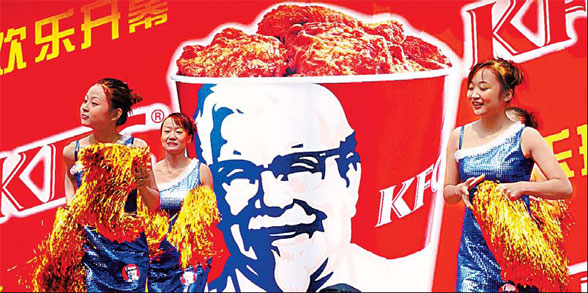 A KFC promotional event in Huaibei, Anhui province.
With a possible US recession looming, Colonel Sanders is turning to China to fill the breach, offering a menu of fried dough and preserved egg porridge alongside the chicken that turned KFC into an American icon.
Beset by falling sales at home, Yum! Brands Inc, owner of the Kentucky Fried Chicken and Pizza Hut brands, is mounting an expansion drive in China that could make the country its biggest source of profit within a decade.
But like many foreign firms in China, from mobile phone makers to clothing designers, the US fast food giant has discovered it can't just rely on a foreign brand name for growth and must instead adapt to local tastes and lifestyles.
So KFC has given a Chinese twist to its menu by adding dishes similar to the food that tens of millions of Chinese grab from street stalls or hole-in-the-wall restaurants on their way to work every day.
"We felt that we could not just copy a model in a foreign country," Sam Su, the Taiwan-born, US-educated head of Yum's China division, told a forum in Shanghai late last year. "In a market like China, everyone should try to create new models."
The formula is apparently working. Yum's sales in China grew 12 percent in the first quarter compared with 5 percent in other international destinations and 3 percent in the United States.
KFC was the first foreign fast food company to move into China, opening its first outlet in 1987. Yum has since become China's biggest restaurant chain with some $2 billion of annual sales and over 2,500 KFC and Pizza Hut outlets.
That dwarfs the roughly 900 outlets of McDonald's Corp, its nearest rival in China's $28 billion fast food market.
And the drawcard isn't necessarily Colonel Sanders's secret recipe of herbs and spices. Chinese customers are often not even interested in fried chicken.
He Qi, a 35-year-old employee at a Shanghai advertising agency, says she visits KFC three or four times a week to eat fish, porridge and egg tarts. "I avoid touching fried stuff because it's bad for one's health," she says.
Yum intends to increase its lead and plans to add 425 restaurants in China this year. McDonald's has said it aims to open at least 125 stores in the country in 2008.
Yum CEO David Novak has said he envisages eventually having over 20,000 restaurants in China. "We're in the first inning of a nine-inning ball game in China," Novak said recently.
So far, investors are welcoming the China strategy. Operating profit at Yum's China division surged 30 percent to $375 million last year, accounting for over a quarter of the firm's total operating profit of $1.36 billion, which rose 8 percent.
Novak has predicted China's contribution could reach 40 percent by 2017, exceeding 30 percent for the United States by then. Despite sliding US revenues, which dropped 7 percent last year, Yum's shares are up about 29 percent since the start of 2007, while the Dow Jones Industrial Average stays flat.
The portly, white-haired figure of Colonel Sanders helped draw Chinese to KFC restaurants in the late 1980s, when China was opening up to the world and customers were eager to experience Western lifestyles for the first time.