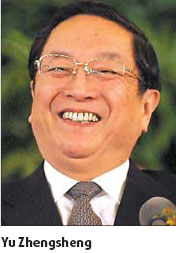 Preparations for the 2010 Shanghai World Expo will focus on improving residents' lives and developing the city, Shanghai Party chief Yu Zhengsheng said yesterday.
In an interview to mark the start of the two-year countdown to the expo, Yu said a "600-day action plan" for the event is being drafted to promote infrastructure construction, environmental work and better lives for residents.
"The six-month event is not only about building a beautiful expo garden and spreading the 'Better City, Better Life' theme, but also about improving the lives and environment for people in the city."
A team of about 100 officials from Shanghai, headed by Yu and Mayor Han Zheng, visited Beijing to see how the capital has improved conditions as it prepares to host the 2008 Olympics.
"Beijing has made tremendous achievements in improving infrastructure, the environment, residential communities and health conditions while getting ready for the Games," Yu said.
As of yesterday, 205 countries and international organizations had confirmed their participation in the Shanghai Expo, the first to be held in a developing country.
Related readings:



 Shanghai World Expo plans 20,000 cultural, arts shows


 China unveils grand pavilion at 2010 World Expo


 Quality of 2010 Expo products 'ensured'

 Shanghai expo adds bounce to industry
That is 33 more than the record set at the 2000 event in Hanover, Germany.
Yu said the entire country will benefit from the event.
In addition to a national hall, the China Pavilion will feature exhibits from mainland provinces and cities, and separate Hong Kong, Macao and Taiwan pavilions. The mainland provinces and cities will each get 600 sq m of exhibition space, where they are expected to show off their modern achievements.
Cities from across the globe will also reveal slices of urban life in the 15-hectare Urban Best Practices Area. For the first time in the event's history, cities will show off cutting-edge architecture and design concepts.
People who cannot make it to the real Expo in Shanghai will be able to view three-dimensional images of the pavilions at Expo Shanghai Online.
"The most difficult part of the Expo's preparations has passed," Yu said, referring to the effort to relocate about 18,000 households and 272 factories from the 5.28-sq-km expo park, the largest such relocation in China.
"You can't imagine the difficulties. We had to move the 142-year-old Jiangnan Shipyard, the cradle of China's modern industry, and other examples of the country's first factories," he said.