China's first "one-child" generation is literally the driving force behind the country's thriving auto market, but in the early 1980s, most of their parents were still striving for a Feige (Flying Pigeon) bicycle as the ultimate in personal transportation.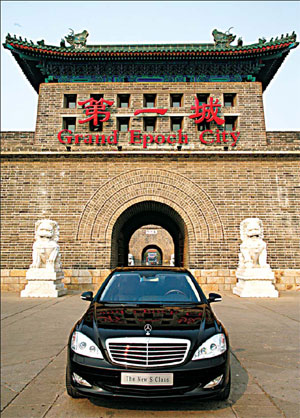 "At that time, owning a bicycle was still a luxury for Chinese. With a salary of less than 50 yuan ($7.14) per month, nobody dared to dream of someday owning cars costing hundreds of thousands yuan," says a Mercedes-Benz owner who purchased an E-Class sedan in 2005.
It was in the 1990s, when few nouveau riche began driving their private cars that some Chinese businessmen began to yearn for a "Daben" (big Benz), the Chinese nickname for Mercedes-Benz.
However, in the new century owning a Mercedes-Benz is becoming a reality rather than a dream for China's new generation.
Last month, the German luxury automaker officially launched its locally produced C-Class sedans priced at between 378,000 and 478,000 yuan, targeting younger, newly affluent Chinese.
In the first quarter this year, Mercedes-Benz sold 9,626 luxury sedans in China, a 40 percent increase year-on-year, which is a sales figure the company never imagined when it entered China market.
"In the history of the world, no country has changed as much as China in the past 30 years, and it is not only amazing to watch it, but to be a part of it and help contribute to it," says Ulrich Walker, chairman and CEO of Daimler Northeast Asia Ltd, parent of Mercedes-Benz (China) Ltd.
Actually, Mercedes-Benz was selling vehicles in China in 1913, when it had a sales office in Qingdao, Shandong province, which was then a major German business and military enclave in China.
"Since then, we've been importing vehicles to China in varying capacities, but now we are proud to produce the Mercedes-Benz C- and E-Class vehicles here," says Walker.
In 1980, just one year after the Chinese government permitted ownership of private automobiles, the company set up a Daimler-Benz liaison office in Beijing in anticipation of the potential of the Chinese market for luxury sedans. It was the first such supplier in China.
But the Benz brand was still unknown in China, a slight irony given that Karl Benz created the first modern gasoline-powered automobile (the Motorwagen) in 1885.