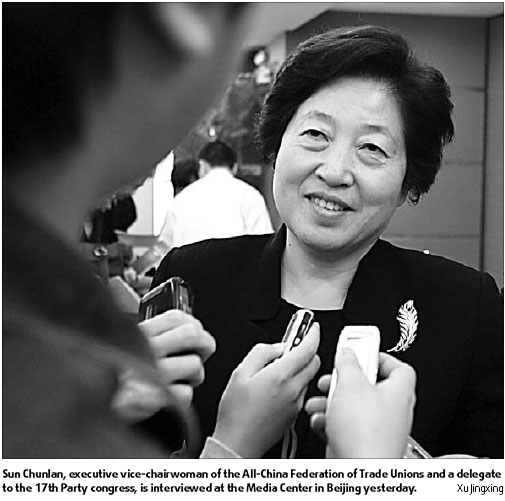 Having resisted unionization in China for so long, Wal-Mart, the world's leading retailer, is making the country's top unionist smile.
"We have cracked a world-class hard nut," said Sun Chunlan, executive vice-chairwoman of the All-China Federation of Trade Unions (ACFTU), referring to the establishment of 77 trade unions among the retailer's 84 branches in China.
The Wal-Mart unions are functioning well. For example, Wal-Mart unions in Fuzhou, capital of East China's Fujian Province, have persuaded management to raise part-time workers' wages to 6 yuan (75 US cents) per hour, above the minimum wage 5.5 yuan.
The stores also agreed to abolish the probation period for part-time workers. Meanwhile, the Wal-Mart union in Shenyang, capital of Liaoning Province, has negotiated the right to have one day off a week.
As a delegate to the 17th Party congress, Sun said she aims to bring all Chinese Wal-Mart staff under the trade union umbrella.
"All overseas companies should follow suit, obey China's laws and set up trade unions as soon as possible," Sun said yesterday.
She told China Daily that a sound labor-capital relationship was an important component of a harmonious society, a social developmental goal by 2020 advocated by Party General Secretary Hu Jintao.
Sun said China's legal system has improved a lot and stricter laws on labor protection would be enforced soon.
For example, the new Labor Law will take effect from next year. It is expected to set standards for mandatory contracts, dismissal and severance pay, and give more power to trade unions.
China's trade union law stipulates that a company with more than 25 employees must have a trade union organization, formed by employees on a voluntary basis. No organization or individual should restrict them from joining unions.
"We have enough legal weapons in hand to protect the rights of workers," Sun said, adding she planned to see trade unions set up in more than 70 per cent of foreign-funded enterprises this year. Currently, 60 percent of 51,728 foreign-funded firms have trade unions.
Sun said the federation had met with challenges from some companies.
"The resistance mainly comes from the bosses of foreign enterprises who do not fully understand the role of China's trade unions."
Sun said the establishment of unions at Wal-Mart had been a big stimulus to other foreign enterprises to follow suit. These companies included: Carrefour, McDonald's, Motorola and Nescafe.
She said unions not only safeguarded the rights and interests of workers but also contributed to the enterprises' development.
Migrants' rights
ACFTU is also committed to ensuring migrant workers have more rights.
More than 60 percent of workers in the industrial and service sectors are migrants. Around 80 percent of miners are ex-farmers and the figure is 70 percent in the construction industry and 68 percent in the processing and manufacturing industry.
The ACFTU found many of China's 200 million migrants are facing three major problems, namely low pay, poor work safety conditions and insufficient social security.
"The problems have resulted in social unrest in some places, and if the trend continues, the health of migrant workers and social stability will be threatened," warned Li Peilin, a think-tank sociologist with the Chinese Academy of Social Sciences.
Sun's ACFTU has worked with the government to ease these pressures. At the end of last year, 41 million migrant workers had joined trade unions. China's trade unions last year helped 2.8 million migrant workers claim 1.3 billion yuan ($173 million) in wages.
Even so, infringements of labor rights still occur. This year, hundreds of laborers have been forced to work as slaves in small brick factories and mines in Shanxi and Henan provinces.
"We can never tolerate such things happening in our socialist country," senior ACFTU official Zhang Mingqi said.
Sun said the answer was to ensure that unions be established wherever there are migrants. Where there are trade unions the rights of employees are seldom violated and if there is a violation there is a remedy, Sun said.
Sun added her federation wants to recruit more than 10 million rural migrant workers as trade union members this year.
"The numbers must tell you how challenging our task is," Sun said. "But we should try to protect the rights of migrants by all means necessary."
(China Daily 10/19/2007 page6)