Signs are emerging of the plethoric capacity of China's shipbuilding sector amid booming global demand for new vessels.
Shipbuilding capacity in the country will exceed 40 million deadweight tons a year in 2010 if new shipyards planned by investors are completed, according to data from China Association of National Shipbuilding Industry.
The figure, up from 14.6 million deadweight tons last year, will be much bigger than a government plan unveiled in September that seeks to have a total shipbuilding capacity of 23 million deadweight tons at the end of the decade.
"The government's plan is not very rigid. But 40 million deadweight tons is really too much for the shipbuilding sector," said You Shumin, an official from the Commission of Science, Technology and Industry for National Defense, the sector's main watchdog.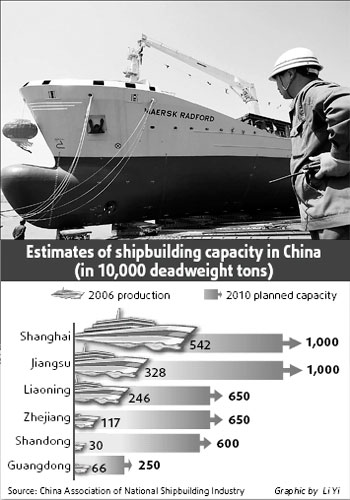 You said the expected excess capacity has mainly resulted from profligate investment by domestic private and foreign companies to cash in on new vessel demand.
Many projects funded by these investors don't comply with China's regulations for the shipbuilding sector, she added.
According to the rules, total input in a new shipbuilding project should reach at least 2 billion yuan, of which no less than 40 percent should come from investors themselves. The Chinese side should hold a stake of at least 51 percent in their shipbuilding joint ventures with foreign partners. Sino-foreign ventures are required to build their own technical centers.
Projects for low-and-medium-speed diesel engines for vessels are not permitted in China.
"We will implement the existing regulations more strictly and work out new measures to put the sector in order," You told China Daily. She also warned of investment risks in the sector, although the global ship market has been flourishing since 2003.
"Demand for new vessels are likely to fluctuate widely in coming years. Therefore, investors should keep vigilant about possible risks," she stressed. "Shipyards in China will suffer a lot from global market fluctuations if overcapacity cannot be prevented as they rely heavily on orders from foreign buyers."
Related readings:


Everything's ship-shape in huge Chinese project


China to match ROK in shipbuilding orders

China's ship industry strives for No 1 spot


China sees record ships output

Ship production in China, the world's No 3 shipbuilding country after Japan and South Korea, climbed by 20 percent to 14.52 million deadweight tons last year from 2005, grabbing 19 percent of the world total. Vessels for export amounted to 11.71 million deadweight tons and the whole sector's profits more than doubled to 9.6 billion yuan.

Three-fifths of the total shipbuilding capacity in China is commanded by two State-run groups - China Shipbuilding Industry Corp and China State Shipbuilding Corp.

| | | |
| --- | --- | --- |
| 1 | 2 | |
(For more biz stories, please visit Industry Updates)