Shanghai Waigaoqiao Shipbuilding Co yesterday delivered the hull of the nation's biggest floating production, storage and offloading vessel to ConocoPhillips China.
The 300,000-deadweight-ton vessel is valued at US$230 million, is the largest of its type - and the most expensive ship China has ever built.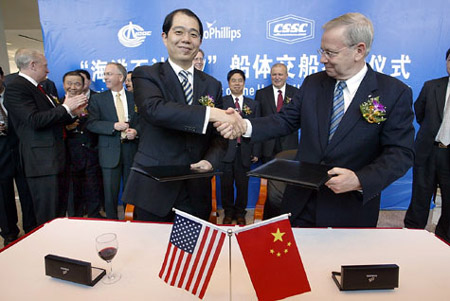 Tan Zuojun (left), vice general manager of the China State Shipbuilding Corp, shakes hands with J.D. McColgin (right), president of ConocoPhillips Asia Pacific, after the signing of a delivery paper for the hull of an ocean giant. The ship, built by the state ship-building company's Shanghai Waigaoqiao subsidiary, is among the argest such vessels in the world. [Shanghai Daily]


The ship, named Hai Yang Shi You 117, is among the largest of its type in the world.
"The ship used the most advanced technologies in the world and is the first in China with its own intellectual property right," said Wang Qi, assistant to the president of the Shanghai shipyard.
"Its timely delivery marks Waigaoqiao becoming a qualified subcontractor in the global offshore engineering industry."
Besides being able to load and process raw crude, and to store and offload stabilized crude, an FPSO vessel can also serve as the production unit for an offshore crude or natural gas exploration project.