Six hundred years ago, when Ming Dynasty navigator Zheng He explored the seas with an enormous fleet of ships, it marked the high tide in China's shipbuilding history.
That glory is likely to be repeated as the country strives to become the world's largest shipbuilder.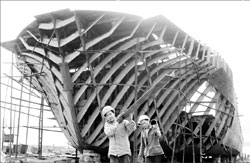 Last year China maintained its position as the world's third-biggest shipbuilder, a rank it has held for 12 consecutive years, as ship export volume surged 74 percent to $8.11 billion.
Two leading domestic shipbuilders, Dalian Shipbuilding Industry Co Ltd and Shanghai Waigaoqiao Shipbuilding Co Ltd, became world top-10 shipbuilders, joining a list that was before the sole domain of Japanese and South Korean companies.
"China's position as the world's third-largest shipbuilder is totally different from that 10 years ago," said Nie Lijuan, managing deputy secretary-general of China Association of National Shipbuilding Industry. "The country has significantly improved its shipbuilding competitiveness."
Chinese shipbuilders produced 14.52 million deadweight tons last year, nearly 20 percent of the world's total, compared to only 6 percent of the global market in 2000.
Their profitability has also improved. The industry's total profits doubled last year to reach a record high of 9.6 billion yuan, more than the combined profits of the previous five years, according to figures from the Commission of Science Technology and Industry for National Defence, the government agency in charge of the shipbuilding industry.
Types of made-in-China ships have developed from conventional bulk carriers and crude oil tankers into high value and sophisticated vessels, such as very large crude carriers (VLCCs), liquefied natural gas carriers and high-speed containerships.
Shipbuilding is one of the key sectors China will develop during the 11th Five-Year Plan period (2006-10). The State Council last year passed a mid- to long-term development plan for the industry that sets a target that would comprise at least 25 percent of the world's total output by 2010. If goals are met, China would become the world's largest manufacturer of bulk carriers and the world's second-largest producer of oil tankers by that time.