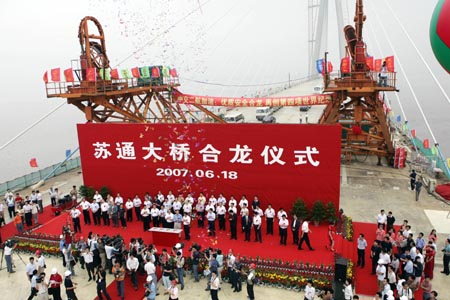 A ceremony was held yesterday to celebrate the completion of its central span. [newsphopto]

"It is particularly good for Nantong, because from now on it is linked to the south bank (where the cities' business connections are)."
Local officials and businesses said the bridge will erase the chasm dividing Nantong and Suzhou. In the past, ferries provided the mode link between the two. The time it takes to travel from Nantong to Shanghai will be cut to about one hour from the current three hours.
"By exploring the competitiveness of Nantong's manufacturing industries we aim to become a northern Shanghai," Luo Yimin, Party Secretary of Nantong, said.
The bridge's project management team said the bridge will open to traffic in the first half of next year - about a year ahead of schedule.
The Beijing Olympics torch relay will pass over the bridge.