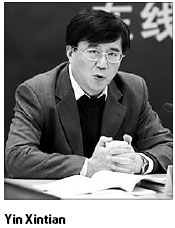 The government will soon publish the guidelines on intellectual property rights (IPR) protection after the first national strategic plan on IPR is formulated later this month.
The move will be a strategic transition in China's almost 30 years of IP system building history, Yin Xintian, spokesman for the State Intellectual Property Office and director-general of its legal affairs department, said yesterday.
Yin's comments come on the eve of the outreach session of the G8 summit in Heiligendamm in Germany. The G8 (the US, the UK, France, Germany, Italy, Canada, Japan and Russia) has invited five developing countries (China, India, Brazil, Mexico and South Africa), or the "outreach five" to the summit, where IPR is expected to be one of issues to be discussed.
The strategic plan, overseen by Vice-Premier Wu Yi, has been in the pipeline for more than two years. Thirty-eight ministries and agencies are also involved in its formulation.
With the release of the strategic plan, China's IPR work will change from a passive protection-focused approach to a comprehensive innovative one.
"China has regarded and will regard IPR protection as a national policy, not only to attract foreign investors and develop markets overseas, but more importantly to meet the country's technological and economic development needs and improve themarket economy," said Yin at an IPR forum inBeijing.
In about three decades, China, as the world's largest developing nation, has built a legal framework and made commitments to IPR protection, Yin said, whereas many developed countries took several hundred years to do so.