China plans to boost social welfare and medical services for its senior citizens as the country starts to feel the pressure from its huge elderly population.
The national program on the aging population during the 11th Five-Year Plan period (2006-2010) was issued by the China National Committee on Aging under the approval of the State Council Thursday.
Li Bengong, a senior official with the committee, said that although welfare payments and medical subsidies for retired people had been significantly increased over the past five years, demand had increased even more.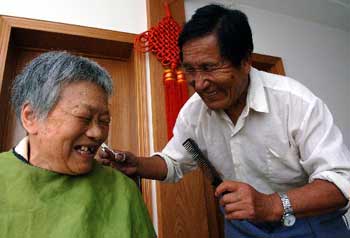 (Xinhua File Photo)
China's elderly population is expected to hit 174 million, or 12.78 percent of its entire population, by 2010, a big increase from the current figure of 143 million, the program predicted.
According to the program, China will integrate more seniors in poor areas into the rural cooperative medical care system and the old-age pension system, and is committed to solving problems for retired people with financial difficulties.
The pressure of the aging population in rural areas is very noticeable. About 85.57 million old people in rural areas, 65.82 percent of the country's total, do not benefit from the country's social welfare system, pensions and adequate medical care.
China plans to increase the number of beds in homes for the elderly by 800,000 in the cities and by 2.2 million in rural areas in the next five years, the program said.
At present, China has 380,000 homes for the elderly with 1.2 million beds. This means that 1,000 elderly people compete for 8.6 beds, far less than the 50 to 70 beds of developed countries.
The program also asks government at various levels to increase financial support for infrastructure projects for elderly people, as well as cultural and educational activities.
By 2010, 10,000 more old people's colleges and schools will be built.
The country will, as well, encourage domestic private enterprises and foreign capital to invest in services for the elderly so as to optimize and diversify its investment structure.