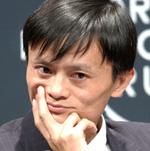 Age: 42 (1964)
Birthplace: Hangzhou, Zhejiang
Company: Alibaba.com
Head office: Hangzhou
Industry: EC, internet portal

Chairman and Chief Executive Officer, Alibaba.com (China)Technology, People's Republic of China
Jack Ma and his team of 18 founders created Alibaba.com in Hangzhou, China in March of 1999. Since that time, Alibaba.com has grown to become China's largest e-commerce company.
Alibaba.com is world's largest business-to-business marketplace for global trade and host to China's leading domestic business-to-business trade community. Its Web properties publish product catalogues from over 100,000 suppliers and have over 1,000,000 registered members from over 200 countries who buy and sell products from all industries and services on its platform. Alibaba's vision is to become the number one destination for buyers and sellers at small-and medium-sized enterprises to find trade opportunities, promote their businesses and conduct transactions online.
In 1995, Ma founded China Pages, widely regarded to be China's first Internet-based company. Ma then accepted an invitation from China's Ministry of Foreign Trade and Economic Cooperation (MOFTEC) to head the information department of the China International Electronic Commerce Center (CIECC). He left MOFTEC in early 1999 to launch Alibaba.com.
Ma has been featured in leading international media and was chosen by the World Economic Forum as a "Young Global Leader." Last year, he was selected by China Central Television (CCTV) and its viewers as one of the "Top 10 Business Leaders of the Year."
Ma graduated from Hangzhou Teacher's Institute in 1988 with a B.A. in English and began his career as an English teacher.
Personal Profile:
Since 1999, Chief Executive Officer, Alibaba.com. Corp.
1997-99, President, Inforshare Div., China Int'l Electronic Commerce Center, Ministry of Foreign Trade and Economic Cooperation, People's Republic of China. 
1995-97, President of chinapages.com; 
1988-95, Teacher, Hangzhou Inst. of Electronic Industry;
1988, BA in English, Hangzhou Teacher's Inst.