China is aiming for slower growth, more widely spread prosperity and a cleaner environment following years of frenzied industrialization, a senior economic planner said Monday.
After years of 9 percent-plus annual growth, China has set a target of 7.5 percent growth per year through 2011, boosting "national strength" and not just total output, said Ma Kai, minister in charge of the Cabinet's main planning agency.
The government's latest five-year economic blueprint, announced in connection with the annual session this week of its figurehead legislature, is part of a strategy aimed at closing the gap between the affluent urban elite who have profited from two decades of reform and China's poor majority.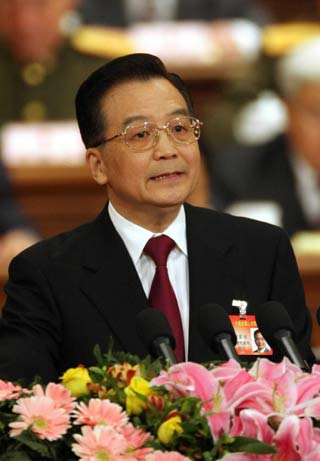 Chinese Premier Wen Jiabao delivers a speech during the opening of the National People's Congress at the Great Hall of the People in Beijing March 5, 2006. The Premier promised a economic growth rate of 8% for 2006, and a massive US$420b spending to improve the rural sector. [Xinhua]
But it also reflects growing alarm over the high costs of China's boom: fouled waterways, villages heaped in litter, cities shrouded in smog.
"We do not want to pay too big a price tomorrow for growth today," Ma said. "If that is the case, it is not real development."
This year's differs from those of the past, Ma said.
For the first time in decades, the leadership distributed a draft to local governments and other groups and asked for recommendations, some of which were adopted, Ma said.
"The outline reflects the general will of the public," he said.
While economic targets are general goals, targets for improvements in the environment will have to be met, he said.
China's focus for the next five years will be on upgrading industries and improving their competitiveness, not expanding them, Ma said.
"We have highlighted the human approach and are considering the vital needs of the people," he said.
The ultimate aim is to improve the lives of China's 1.3 billion people, said Zhang Zhixin, a vice minister at the commission.
"The gap is not just measured in economic indicators, but what is more important, in terms of public services and living standards," Zhang said.