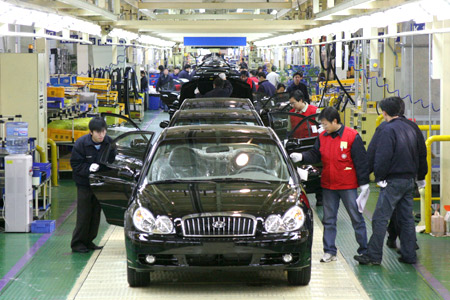 The new plant, to be completed by the end of 2011, will produce 300,000 vehicles per year. [China Daily]
Hyundai Motor Co, South Korea's biggest automaker, plans to build a third plant in China to meet demand in the world's largest automobile market so far this year.
The new factory, which may cost about $800 million, is expected to be completed by the end of 2011, Noh Jae-man, president of the Seoul-based company's Chinese venture, said yesterday in Hong Kong. The factory, with an annual capacity of 300,000 vehicles, will build cars larger than subcompacts, he said without elaborating.
Hyundai aims to boost sales in China by 18 percent next year as its fuel-efficient vehicles win market share, and as economic growth and government incentives spur industrywide demand.
Nissan Motor Co, Ford Motor Co and Volkswagen AG have also announced expansion plans in China as sales in the United States, Europe and Japan slow.
"China is the main battlefield for every automaker in the world," said Stephen Ahn, head of research at LIG Investment & Securities Co in Seoul. "Increasing capacity in the country is a common issue for all carmakers."
Hyundai expects to sell about 670,000 vehicles in China next year, compared with a 570,000 target this year, Noh said.
Related readings:


 Hyundai revamps flagship sedan


 Hyundai Motors Jan-July sales in China soar


 Hyundai jumps on overseas sales boost


 Hyundai, Kia target China sales
Affiliate Kia Motors Corp, South Korea's second-biggest automaker, aims to sell about 330,000, he said. That would be a 43 percent jump from this year's goal.
The two automakers expect their combined China sales to rise 83 percent this year to 800,000 vehicles, with Kia selling 230,000, the companies said on Nov 12.
Overall car sales in China may increase 15 percent next year, Noh said. Industrywide passenger-car demand rose 45 percent to 8.19 million in the first 10 months of this year as the government cut vehicle taxes and introduced subsidies in rural areas.
"We hope the government extends the tax incentive to next year," Noh said.
Hyundai fell 1.6 percent to close at 98,400 won in Seoul, compared with the key Kospi index's 0.8 percent drop. The stock has climbed 149 percent this year.
Beijing Hyundai Motor Co, the South Korean carmaker's 50-50 venture with Beijing Automotive Industry Holdings Co, plans to boost capacity in its two existing plants to 600,000 vehicles a year in early 2010, it said in September.
Kia, which also operates two factories in China, plans to have capacity to make 430,000 vehicles a year by 2011.
Hyundai operates factories in South Korea, China, India, the Czech Republic and the US. The automaker plans to add more in Brazil and Russia.
Hyundai may consider building another plant in India as it will reach the limit of its current manufacturing capacity over the next two to three years, Oles Gadacz, a spokesman for the automaker, said yesterday. He didn't elaborate.
The company is operating two plants in India now, with an annual capacity of 600,000 units.