Shanghai Volkswagen: Tiguan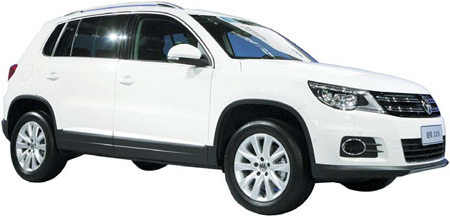 Shanghai Volkswagen's locally made Tiguan SUV will officially enter the Chinese market at the beginning of next year following its long-awaited debut at the ongoing seventh Guangzhou International Automobile Exhibition.
The compact SUV was first introduced at the Frankfort Motor Show in 2007. It is a smaller and more affordable version of the Touareg and mainly competes with the Honda CR-V and Toyota RAV4 in the international market.
As the first SUV from the Sino-German joint venture, the localized Tiguan was co-developed by the Shanghai Volkswagen's design center and the German group's design headquarters. The partnership has already built several popular models including the Passat and Lavida.
The localized Tiguan is equipped with TSI engines in two options - 1.8T and 2.0T - and the Tiptronic 6-speed transmission that offer a balance of power and fuel efficiency. It also has many advanced technologies of the original model, including the 4 Motion all-wheel drive system.
With the introduction of localized Tiguan, the product mix of Shanghai Volkswagen will be further improved, the company said.
The name Tiguan is a combination of the words Tiger and Iguana. Shanghai Volkswagen revealed the Chinese name of locally made Tiguan at the show as Tuguan.
FAW-Volkswagen: Golf GTI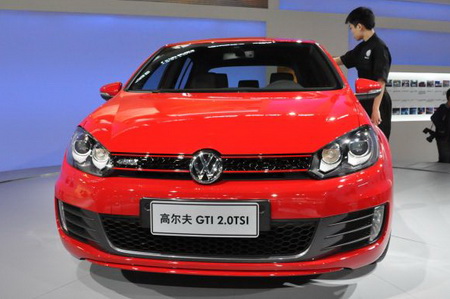 Volkswagen Golf GTI [Xinhua]
The debut of the Golf GTI, the first high-performance sedan produced by FAW Volkswagen, was undoubtedly one of the most popular in the limelight of the ongoing Guangzhou auto show.
Chinese consumers will be able to buy the locally produced Golf GTI in the first half of next year, the company said.
The high profile model is powered by the 2.0 TSI engine, which generates maximum power of 155kW, and offers top torque of 280Nm. Equipped with the 6-speed double-shift gearbox, the hot hatch can provide an optimum driving experience.