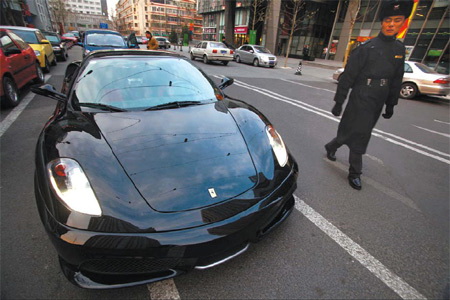 A Ferrari is parked at Dongdaqiao, Chaoyang district. [China Daily]
Beijing's luxury car owners say exorbitant insurance fees that will come into effect from next year will not stop them driving their mega-million yuan sleek toys.
"Insurance fees will never stop me from driving," said Xu Bo, a car dealer in his twenties, and who owns a 3 million yuan Ferrari 360, a 1.5 million yuan Porsche 911 and 1.6 million yuan Mercedes Benz in separate garages in Beijing.
Xu belongs to the "Supercar Club", which consists of only a handful of millionaires, compared to nearly 5.7 million motorists in the capital. The cashed-up supercar drivers already pay up to 200,000 yuan each year to have their wheels insured, not to mention the maintenance costs.
The insurance fees are set to double under a new car insurance policy next January, which also stipulates that owners of cars with few crashes will enjoy up to a 40 percent discount on their insurance fees, while those with so-called "bad records" will pay up to three times more than the previous year.
"Unfortunately, supercars fall into that high-risk group along with some modified racing vehicles, because they are simply too costly to be insured," said Li Feng, director of the commercial insurance department of the Beijing Insurance Association, who drafted the policy. "That's why we call them 'special-need vehicles' under the new policy."
Liu Dongqing, a veteran insurance broker, said insurers have a more vivid name for the group.
"They are called 'the junk vehicles' in our business. We just hate granting them insurance contracts," he told METRO.
It costs buyers millions of yuan to own a Ferrari, Porsche and Lamborghini because of China's high import taxes on luxury goods. But after calculating the insurance fees and compensation for fixing the expensive cars after even minor accidents, insurance firms often find their deals out of balance.
But they cannot turn down the rich applicants, according to current Chinese insurance regulations.
One owner of a 3.4 million yuan Ferrari 430, who declined to give his name, told METRO that his ride suffered from a minor scratch on its aluminum-made outfit in 2008 and his insurance agency paid him about 150,000 yuan to replace the entire outfit.
The advertising agent pays about 100,000 yuan every year for insurance.
Earlier this month, local media reported that rescue workers refused to help the owner of a Ferrari remove a 3.2 million yuan vehicle from snow-covered Xidawang Road because they were concerned about scratching the vehicle.
Liu said companies could lose a lot of money insuring luxury cars.
"The insurance agents will immediately brand them as high-risk supercar racers," said Liu. "No matter how much their owners pay for insurance, they are no different to low-end second-hand vehicles ready to break apart anytime when it comes to compensation."
Li, the insurance analyst, said many supercar owners simply do not insure their vehicles at all, a move referred to as "streaking".
"They see it as a waste of money. Even if they crash their toys, they can still cover the damage with their wallets," she said.
Xu, the supercar collector, said he did not buy any insurance for his F360 because it is not worth it.
"I use my Ferrari only on Saturdays and Sundays. Many of my friends haven't bought insurance for their supercars either in Beijing," he said.