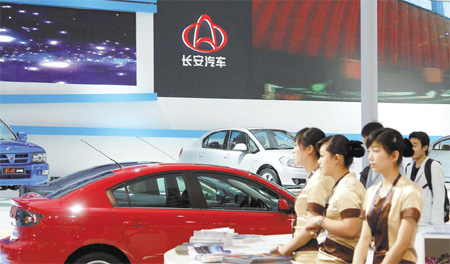 Following its acquisition of the automotive assets of AVIC, the Chang'an Automotive Group is now the third largest automaker in China. [China Daily]
Chang'an Motor Corp this month acquired major auto businesses from aircraft maker AVIC, including mini bus producers Hafei and Changhe. In return, AVIC will get a 23 percent stake of Chang'an. Through the deal Chang'an will outstrip Dongfeng Motor Corp to be the third-largest motor group in China.
Guangzhou Automobile Group Corp in May bought a 29 percent stake of Shanghai-listed SUV maker Changfeng Motor Co Ltd for 1 billion yuan ($146.5 million).
SAIC Motor Corp, the top Chinese auto group, paid 2.1 billion yuan to acquiring Nanjing Automobile Corp's entire vehicle and core component manufacturing assets at the end of 2007. Nanjing Automobile also injected all of its other component, services and trade assets into Donghua, its joint venture with SAIC.
FAW Group Corp in 2002 bought a 50.98 percent stake of Shenzhen-listed Tianjin Xiali Co from its parent Tianjin Automotive Industry Corp. Tianjin Automotive also transferred a 75 percent stake of another branch - Huali Automobile Co - to FAW.