Golf Sixth-generation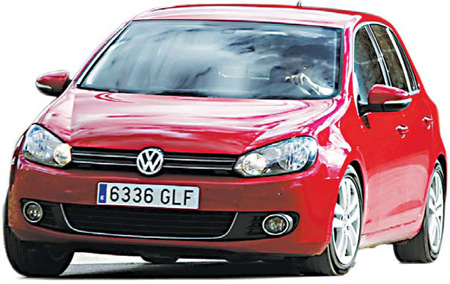 The compact made at Sino-German joint venture FAW Volkswagen Automobile Co has two four-cylinder engine options: 1.6-liter and 1.4-liter TSI (turbo stratified injection). The model also has two transmission options: 7-speed DSG (double-shift gearbox) and 5-speed manual.
The 1.6-liter version generates maximum power of 77Kw/5,600rpm and offer top torque of 155Nm/3,500rpm. The 1.4-liter TSI version produce peak power of 96kW/5,000rpm and boasts maximum torque of 220Nm/1,750-3,500rpm, which gives the Golf a top speed of 200 km per hour. Comprehensive fuel consumption of the 1.4-liter TSI+DSG Golf is 6 liters per 100 km. The compact car meets the European IV emission standard.
The Golf retails between 118,800 and 166,800 yuan. It is 4,199 mm long, 1,786 mm wide and 1,479 mm high. It has a 2,578-mm wheelbase.
Audi A8L Centennial Limited Edition

The new limousine, special for celebration of Audi's 100th anniversary, has two engine options - 3-liter FSI V6 and 6-liter V-12 quattro. The imported models, priced at 1.06 million and 2.54 million yuan depending on engine size, not only integrate many of Audi's latest design elements in the exterior but the multiple new top luxury configurations.
The special A8L 3.0 FSI adopts horizontal chrome-plated front grille originated from A8L 6.0 W12 quattro, and adds a "V6" metal logo at the upper left of the air-inlet grille.
Audi's innovative LED daytime running lights are also seen on both sides of the nose. The new model also highlights royal quality in interior with a number of new luxury configurations, such as heated leather steering wheel, Denmark's top B&Q advanced audio system and a metal commemorative logo inn door trims. Audi said 799 units of the new A8L Centennial Limited Edition will be sold in China.