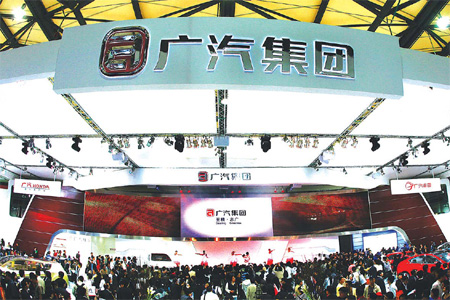 The sixth-largest auto group in China by unit sales, government-owned Guangzhou Automotive is looking to fill gaps in its product line, according to industry analysts. It is also planning to launch its own, yet unnamed brand. [China Daily]
In the latest of its intensive moves to vault to the top tier of the country's fast-growing auto industry, government-owned Guangzhou Automobile Group Co Ltd, the sixth-largest Chinese auto group by unit sales, has signed a preliminary agreement to join forces with much smaller vehicle maker Gonow to produce mainly microbuses.
According to sources with knowledge of the deal, the two parties started talks in June and since signed an asset confidentiality agreement.
They will likely form a 50-50 joint venture in Zhejiang province, home to privately owned Gonow's facility in Hangzhou, which has an annual production capacity of 250,000 units.
Guangzhou Automobile, the partner of Japan's Honda Motor Co and Toyota Motor Corp, will pay cash for its part, while Gonow, which also makes low-cost pickup trucks and SUVs, will offer its existing production facilities.
The two companies were not immediately available for comment.
Alliance and M&A
The potential deal follows another by Guangzhou Automobile, which joined Fiat Auto SpA last month to create a 50-50 partnership in Changsha, capital of Hunan province in central China, to make the Italian company's cars and engines.
In May, Guangzhou Automobile paid 1 billion yuan for a 29 percent stake in Changfeng Motor Co Ltd, a Shanghai-listed SUV producer having production facilities in Hunan.
Yale Zhang, director of Greater China Vehicle Forecasts for US auto industry consultancy CSM Worldwide Corp, said it is obvious that Guangzhou Automobile is well aware of gaps in its product line and is eyeing Changfeng's SUVs and Gonow's micro buses and pickup trucks.
"As well, geographically it wants to branch out of Guangzhou into nearby provinces," Zhang said.
The recent moves indicate that Guangzhou Automobile is playing a speedy catch-up with top Chinese automotive groups such as SAIC Motor Corp, FAW Corp and Dongfeng Motor Corp.
In the first half of this year, Guangzhou Automobile's sales only edged up by 2 percent to 257,2000 vehicles, less than a quarter of sales by top auto group SAIC, the partner of Volkswagen and General Motors.
Guangzhou Automobile also lags behind Chang'an Motor Corp, the partner of Ford and Suzuki, and Beijing Automotive Industry Holding Corp, which is associated with Hyundai Motor Corp and Daimler AG. It is also closely trailed by smaller competitors Chery and BYD.
According to a new five-year (2011-15) blueprint, Guangzhou Automobile aims to boost its annual sales to at least 2 million units, up from 530,000 vehicles last year.
As one of the most profitable auto groups in China, it badly needs acquisitions or collaboration with other companies to expand rapidly to attain the goal.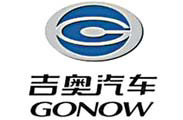 Following deals with Changfeng and Fiat, Guangzhou Automobile and the two partners plan to invest a total of 10 billion yuan in Hunan over the next five years to build up annual production capacity to 500,000 vehicles. It targets sales revenues of more than 40 billion yuan a year in the region.
Guangzhou Automobile's 400-million-euro joint venture with Fiat will start production in 2011 with an initial capacity of 140,000 vehicles and 220,000 engines. The first model will be a 1.4-liter Fiat Linea compact sedan.
A domestic report said last week that the joint venture is also likely to introduce vehicles from Chrysler, which was bought by Fiat in June.
The first model from Chrysler will possibly be the Jeep Compass, according to the report.
If it comes to fruition, the move will mark the struggling US carmaker's re-entry into China production after it pulled out of its former parent Daimler AG's joint venture with Beijing Automotive at the beginning of this year.
Own-badge cars
Guangzhou Automobile is in top gear to prepare to make its own-brand passenger cars at its home base Guangzhou that will require total investment of 6.8 billion yuan for construction of facilities and research and development.
The group received the nod from the government in June last year to build a facility to make its own-brand cars and engines.
The plant will have a production capacity of 100,000 cars and 100,000 engines in its first stage. The capacity could be raised to 200,000 cars and 250,000 engines.
Officials responsible for Guangzhou Automobile's own-brand passenger car business said recently that it will start production next August with a medium and high-end sedan as the first model.
Its new lineup will ultimately embrace small and larger cars as well as SUVs and MPVs.
Guangzhou Automobile has not revealed the name for the new brand of passenger cars.
The group also has a plant in Guangzhou with an annual capacity of manufacturing 5,000 medium and large-sized buses under its own nameplate of Denway.
Thirst for capital
A top executive from Guangzhou Automobile said earlier this year that the group, whose Denway Motors Ltd is listed in Hong Kong, has applied to the China Securities Regulatory Commission to list in its entirety in Shanghai.
But he didn't disclose how much the group plans to raise. Analysts estimate that it will be tens of billions yuan.
The group reported more than 10 billion yuan in post-tax profits last year, which mainly came from its two car joint ventures in Guangzhou with Honda and Toyota. Its sales revenue exceeded 100 billion yuan in 2008.
Recent domestic reports said FAW, the second-biggest Chinese auto group, is also seeking an entire listing.
Chery said in April that it was queuing to launch an initial public offering (IPO) in Shanghai.
The regulator in June lifted a nine-month ban on company IPOs.
SAIC and Dongfeng, the nation's No 3 auto group, are already listed in their entirety - in Shanghai and Hong Kong respectively.