Young vacationers opt for fitness over feasting
Share - WeChat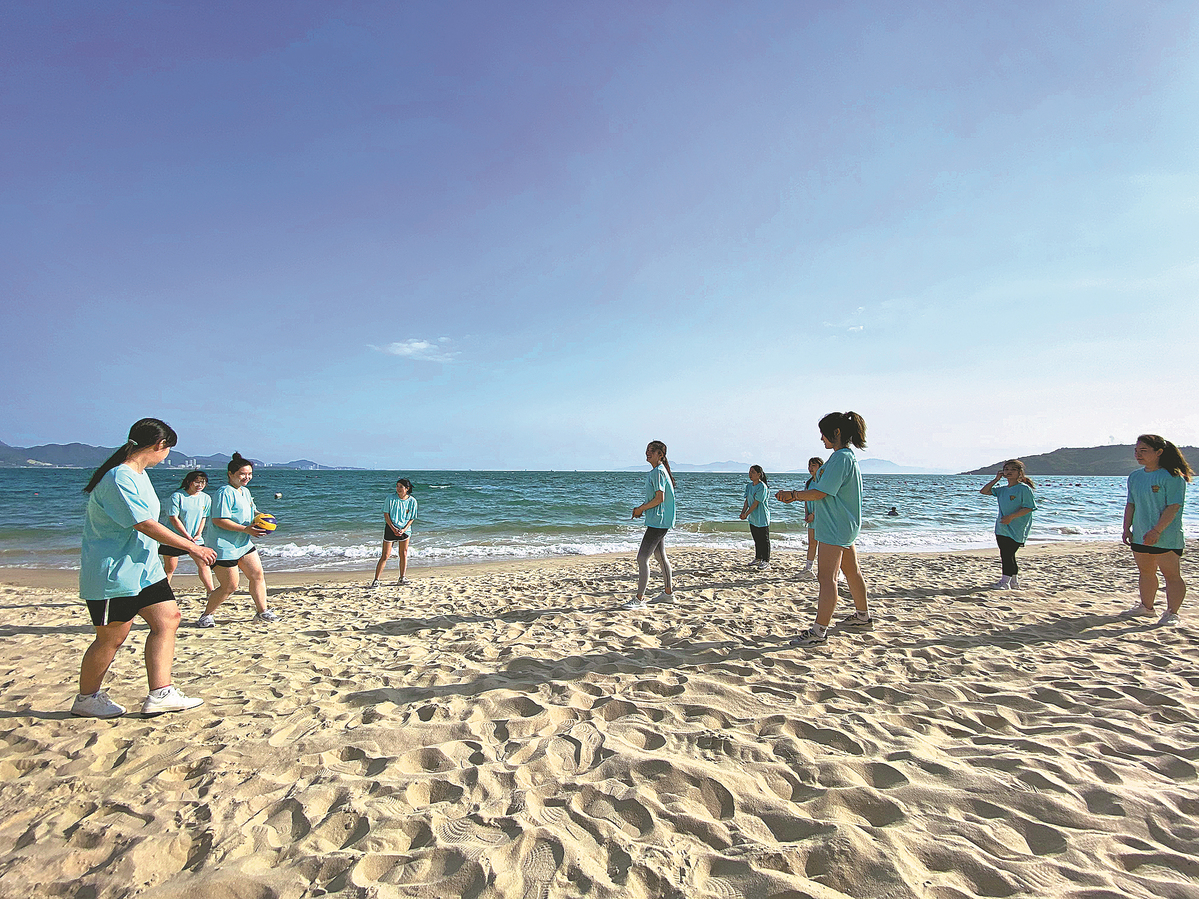 BEIJING - Instead of indulging in holiday food binges, a growing number of young Chinese people are sparing the time for fat-burning activities amid the rising craze for sports.
The phenomenon can be seen in the choices of many vacationers during this year's eight-day National Day Holiday, which started Friday.
After wrapping up a 5-km bike ride, Zhao Lele, from south China's Guangdong Province, was thrilled to cycle through the forests of Changbai Mountain, in Northeast China's Jilin province, sharing the journey with a group of friends.
"Appreciating the pleasant view while doing sports is popular with young people nowadays. This healthy 'slow-paced travel' is exactly what we need to step back from the fast-paced chaos and stress in urban life," said Zhao.
As the young generation pays more attention to health, many scenic spots have been promoting the "sports plus tourism" concept to lure young consumers.
A lake resort in the city of Jilin organized more than 20 sports activities for tourists, such as frisbee, hiking, tennis competitions and swimming. "In addition to these activities, we have also built a 1.9-km jump trail for mountain biking. The wide range of activities we offer has helped us gain in popularity," said Huang Zhongrui, head of the resort's marketing department.
Keeping fit is also a preferred choice for those who don't have any travel plans during this year's National Day Holiday.
Early on the first day of the holiday, a Pilates studio in Jilin's provincial capital Changchun was packed with practicers. "I'm usually too busy and the holiday is the right time for me to do some exercise," said Chen Yun, an automotive engineer.
Liu Shuang, who is in charge of the studio, has witnessed the change in people's ideas about exercise.
"In the past, holidays were very much our off-season. However, since more and more Chinese are paying attention to maintaining a healthy lifestyle, we've been getting busier during holiday periods in the past two years," said Liu, adding that all the training sessions provided by 15 coaches during the holiday were fully booked in advance.
Such developments reflect the increased stress placed on fitness and sports in modern China. Believing that people's health is one of the most important indicators of modernization, Chinese authorities have elevated nationwide fitness to a national strategy and designated Aug 8 as National Fitness Day since 2008, when the country hosted the Beijing Olympic Games.
A series of sports events, including the Chengdu University Games and the ongoing Hangzhou Asian Games have further ignited people's passion for sports activities.
In Shuangyang Township, East China's Shandong province, a national grassroots basketball tournament known as the "Village Basketball Association" attracted thousands of participants and basketball fans.
"More people are coming to watch the games during the holiday," said a villager Kong Jian. He hopes such activities can be organized more often, enriching villagers' lives while also helping to mobilize people to participate in the national fitness campaign and promote rural revitalization.
To support the national fitness campaign, China has accelerated the construction of sports venues and public fitness facilities. The country has proposed the promotion of "15-minute fitness circles" in urban communities, providing physical exercise facilities that residents can reach within 15 minutes.
Liu Xinyuan, a college student in Zhifu district in the city of Yantai, Shandong, often plays basketball with friends at a nearby court during the holiday. "It's convenient and the court is quite good," said Liu Xinyuan.
Since 2023, the district has put into use nearly 100 pieces of fitness equipment in 14 communities, with a total of 8,000 public sports facilities now available across the district.
"We will build a smart fitness plaza in the future to bring more convenience for the masses," said Liu Meiyu, deputy director of the sports center in the district.
Doing sports has also become a new way in which families can come together.
Early Friday, Fan Chunming kickstarted his holiday by participating in a running activity with his relatives, friends and colleagues.
It took Fan nearly 40 minutes to finish the 6.3-km run. "It's very satisfying. I can enjoy the beautiful scenery while exercising," Fan said. "We are on a tight work schedule and running together provides a rare opportunity for us to get together. It's quite meaningful," Fan added.
A survey on national sports venues showed that by the end of 2022, more than 500 million people in China were taking regular exercise. In the meantime, there were over 4.2 million sports venues across China, covering a combined area of 3.7 billion square meters.