Premier stresses need to revitalize Northeast China
Share - WeChat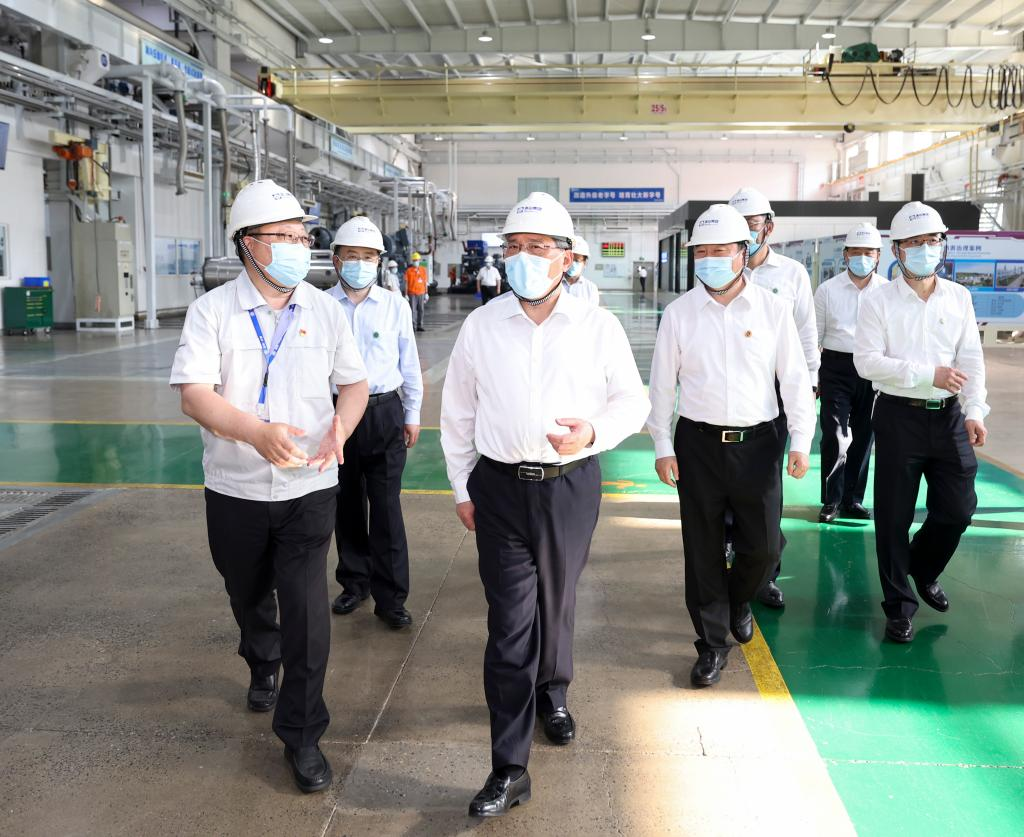 Premier Li Qiang has stressed the need to boost the momentum and vitality of economic growth in the nation's northeast by adhering to the new development philosophy and improving the business environment so as to make greater progress in revitalization of the nation's traditional industrial belt.
Li made the remarks when conducting an investigation and research tour in Liaoning province on Wednesday and Thursday, according to a statement released on Friday. The tour took him to Dalian and the provincial capital of Shenyang, where he visited a scientific research institute, an international business district and a number of high-tech enterprises.
During his inspection tour, Li urged deepening institutional reforms and leveraging innovation-driven strategies to promote scientific and technological self-reliance.
While presiding over a symposium attended by government officials and company executives from cities and counties in Liaoning province, Li pointed out that in order to promote the comprehensive revitalization of the northeast, it is necessary to seize new opportunities, find key areas of development and address shortcomings.
Comprehensive revitalization of Northeast China does not mean giving undue support to declining industries and enterprises. Rather, it means effectively integrating resources and adjusting the economy, so as to form a new industrial structure that facilitates balanced development, according to the nation's strategy on revitalization of Northeast China.
Li emphasized the need to focus on optimizing the business environment, adhere to a problem-solving and demand-based approach, and help enterprises resolve difficulties.
Efforts should be made to promote industrial and technological innovation, focus on building high-level innovation platforms and advanced manufacturing clusters, improve agricultural technology and mechanization levels, and accelerate the construction of a modern industrial system, he added.
The premier also called for efforts to deepen reform and opening-up by actively promoting the construction of a unified national market, further intensify the reform of State-owned assets and enterprises, adopt more effective measures to boost the confidence of private enterprises, and take active measures to attract leading foreign-funded enterprises so that all kinds of enterprises develop on a level playing field.
From Tuesday to Friday, Zhao Leji, chairman of the Standing Committee of the National People's Congress, led a law enforcement inspection team from the Standing Committee of the NPC to inspect the implementation of the Seed Law in Sichuan province.
He visited seed breeding bases and agricultural enterprises in Chengdu, Deyang, Mianyang and other cities in Sichuan, and presided over a symposium to listen to opinions and suggestions from government departments, NPC deputies and experts on compliance-based and law-based seed breeding.
He called for strengthening the protection and utilization of germ plasm resources in accordance with the law, severely cracking down on seed infringement and accelerating the improvement of the legal system of the seed industry.