Xi Focus: Innovation transforms China's saline-alkali fields into fertile land
Share - WeChat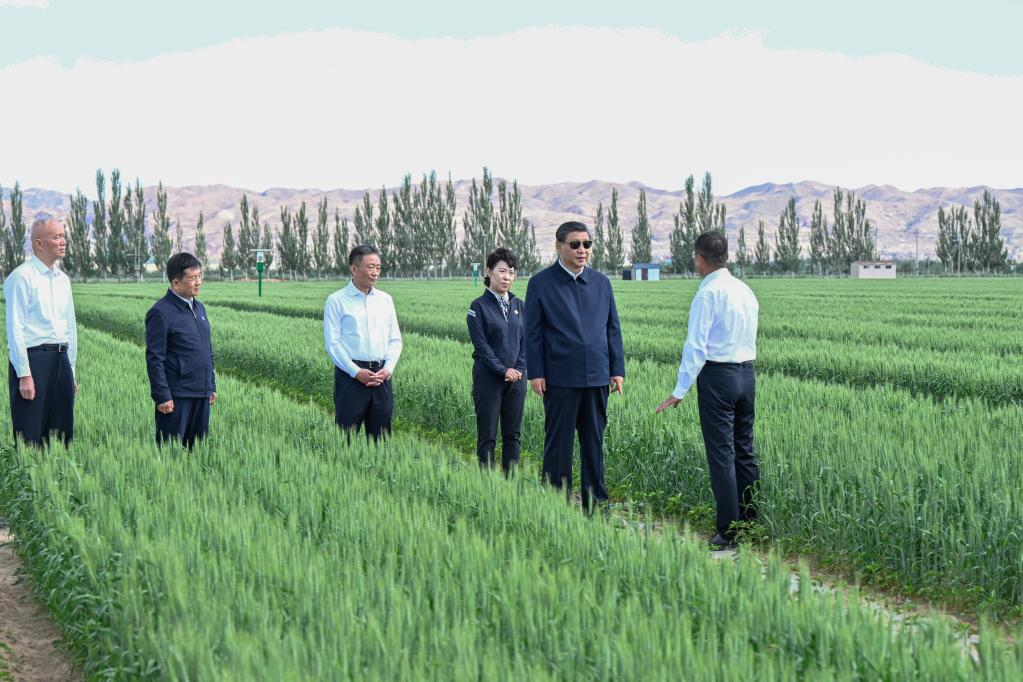 HOHHOT -- Standing in a sprawling crop field in North China's Inner Mongolia autonomous region, farmer Wang Chenglin sees a bumper harvest on the horizon. A once-barren field under saline-alkali stress is now teeming with life.
Wang hails from Wuyuan county in the city of Bayannur. Situated at the northernmost end of the Yellow River, Wuyuan is home to 1.23 million mu (82,000 hectares) of saline-alkali fields, accounting for over half of its total arable land.
"There was nothing we could do but to leave the land lying wasted in the past," Wang recalled. "Thanks to soil improvement techniques and irrigation technologies, the land is now able to support the growth of multiple crops such as sunflowers and corn. And our wallets have been fattened."
Xi Jinping, general secretary of the Communist Party of China Central Committee, made an inspection tour from Monday to Tuesday in Wang's hometown Bayannur.
At a modern agricultural demonstration park, Xi, also Chinese president and chairman of the Central Military Commission, watched displays of soil and seed samples and commended local practices of putting idled saline-alkali lands and desertified lands into good use, as well as advancing scientific irrigation methods and promoting modern agriculture.
In fact, this is not the first time Xi has focused his attention on saline-alkali land.
Less than one month ago, Xi arrived in Cangzhou city, North China's Hebei province. On a plot of saline-alkali wheat land, he learned about how saline-alkali land has been harnessed, how wheat is planted in saline-alkali land and how the agriculture there has been industrialized.
He stressed the need to prioritize the comprehensive use of saline-alkali land, leverage the key role of scientific and technological innovation, expand the cultivation area of suitable crops and develop the intensive processing of farm products.
In October 2021, when visiting the Agricultural High-tech Industrial Demonstration Area of the Yellow River Delta during an inspection tour in East China's Shandong province, Xi said the comprehensive use of saline-alkali soil is of strategic importance to national food security.
Saline and alkaline soil is notoriously difficult to farm, producing low crop yields. China has about 1.5 billion mu of saline-alkali land, of which around 500 million mu is available for utilization.
To restore and harness these lands, localities across the country have been dedicating themselves to working out innovative solutions with respect to soil, fertilizer, irrigation and seedlings.
Like many other farmers, Wang Chenglin benefited from a saline-alkali soil restoration project launched by Inner Mongolia from 2020 to 2022. It was aimed at turning 122,000 mu of saline-alkali fields into arable land in six banners and counties.
Through measures such as leveling soil and building underground pipes to drain salt, the overall soil salinity has been reduced and crop yields have increased by around 25 percent during the period, according to the regional agriculture and animal husbandry department.
Scientists and technicians are also screening and nurturing crop seeds that can withstand saline-alkali stress. In the Agricultural High-tech Industrial Demonstration Area of the Yellow River Delta which Xi visited in 2021, wheat crops labeled "Jimai60" registered a record yield of 460.98 kilograms per mu on average in the summer harvest of 2022 in a field with high salinity and alkalinity.
The progress was made possible by both technical breakthroughs in seed breeding and the utilization of saline-alkali tolerant germplasm resources. Several research institutes have collected and stored a total of 21,000 germplasm resources with such properties in the demonstration area.