Dark sky preservation endeavor stepped up in coastal city
Share - WeChat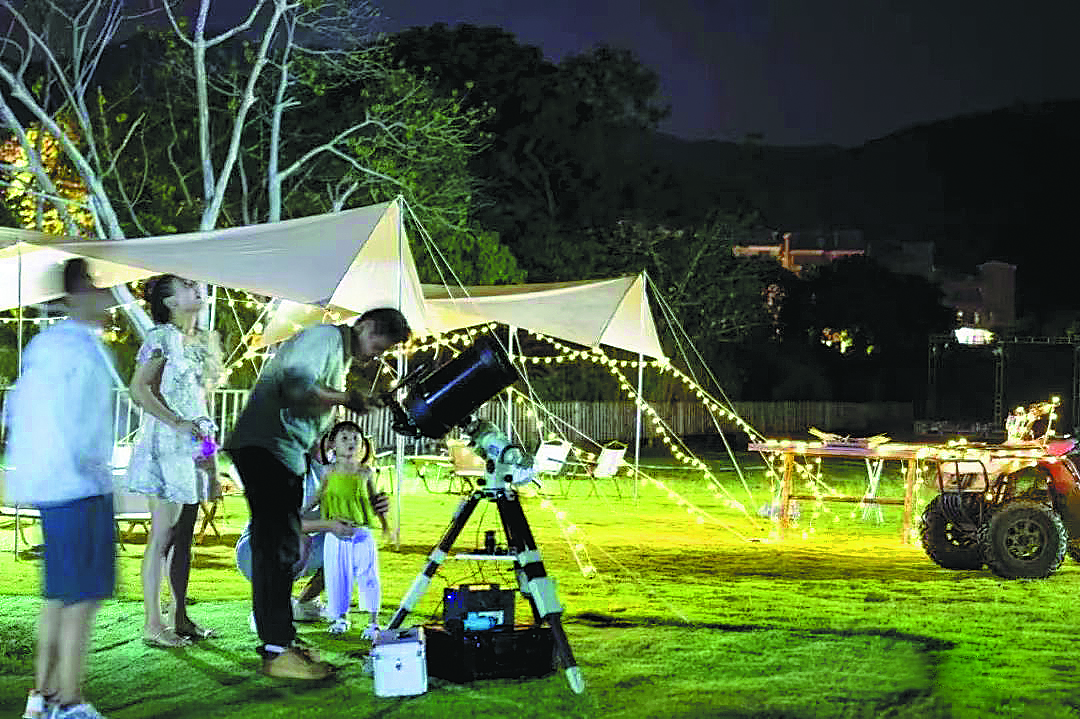 Industrial boost
Xichong Community's dark sky protection efforts will not only benefit professional and amateur astronomers, but will also boost industries such as cultural tourism, hospitality and catering.
A number of campsites, homestays and food brands have emerged since the IDSC was established — playing an active role in fueling economic development and increasing local job opportunities.
Chen Jian started to set up a campsite in Xichong early last year for young people to learn about astronomy.
He said Xichong's dark sky preservation efforts are significant, as they help not only with environmental protection, but also with education.
"Educating children about astronomy is highly important, as it can stimulate their interest and even become a future career choice," he said.
During the seven-day National Day holiday in October, five astronomy events were organized at the Xichong campsite, each attracting 200 to 300 people.
"We were surprised, as we didn't expect such a large number of people to attend. Interest among children in learning about astronomy is growing," Chen Jian said.
However, one major challenge amid the increased public enthusiasm for such work is a lack of teachers.
"We are still in an early stage of development. Joint efforts from the government, industry and the public are needed to make progress," Chen Jian said.
To prepare for an expected rise in the number of tourists interested in astronomy, Gao Qingfeng, who operates a homestay in Xichong, plans to renovate the balcony on top of the property into an area for watching the stars.
"The COVID-19 pandemic hit our business hard for the past three years," he said, adding that the homestay's operating revenue fell to about 200,000 yuan last year — compared with income of about 400,000 yuan before the pandemic emerged.
"But I have since regained hope. More tourists are expected to arrive for night sky observations, and I am very optimistic about the positive impact this can have," he added.
Liang Zheng, director of the China Academy of Urban Planning and Design's Research Center for Urban Lighting and Planning, which is responsible for planning lighting in Shenzhen, said dark sky preservation does not compromise economic growth. This is because such preservation does not prohibit any form of lighting, but focuses on increasing the quality of lighting.
The aim is to create a novel economic model by encouraging people to reduce unnecessary illumination without impacting their work and lives, Liang said.
Mei added: "Dark sky protection is not in conflict with developing the night economy. If we make proper use of this invaluable resource, it will supplement the night economy well."