Opera honors unsung heroes
Share - WeChat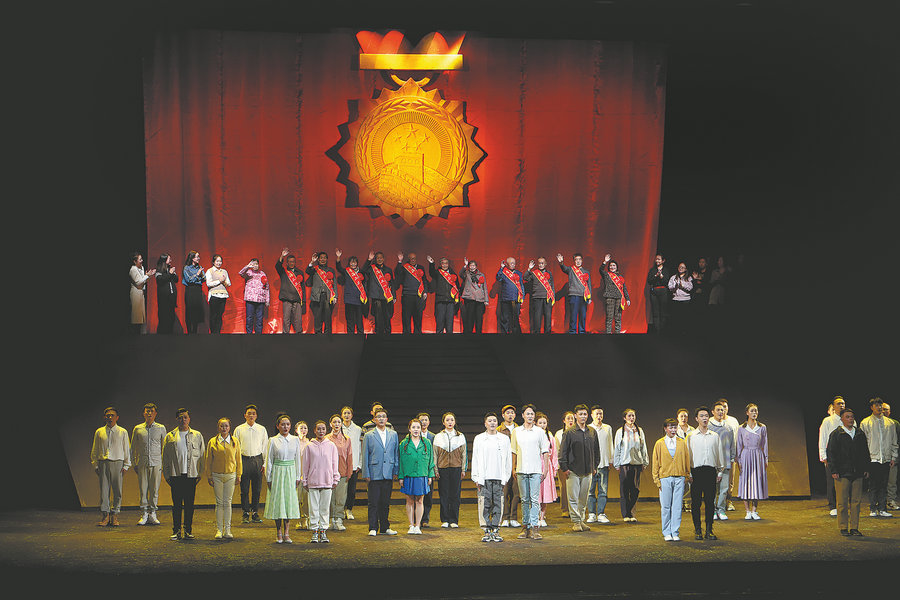 In addition, for the production's Qinghai premiere, Xing invited onstage 12 former workers at the base, now more than 80 years old, who remained unknown for the vast majority of their lives.
"These elderly people were welcomed with a standing ovation. This is not a conventional practice for a stage production, rather, it's more like an awarding ceremony. But I had to add this section, because they deserve to be honored," he adds.
Classified as an opera, the production incorporates the music genre, orchestra music and Chinese folk music styles, to present the sentiments of ordinary people during grand historical events.
Tang Jianping, composer for the production, says that the music compositions are in line with the storyline, targeting the grand narrative from the aspects of diverse individuals.
"String instruments are particularly expressive when portraying the characters' emotions and fervor. The brass and percussion instruments are able to evoke the zeitgeist of young people, embarking on journeys to the plateau in Northwest China out of a shared aspiration," Tang says.
With the melodious and lingering tunes of Qinghai folk songs, coupled with descriptive lyrics, the songs depict the boundless landscape of the grassland, and immediately give the audience an idea of what it's like being on the plateau, where the sky is low and the stars are clearly visible.
Working on the production also allowed Tang to empathize closely with the workers of Base 221: "As creators we must delve into the inner world of the characters, experiencing their emotions and understanding their spirits. It is a mental challenge that must be overcome."
Lu Xiaohua, general manager of the Qinghai Performing Arts Group, says that Xing and Tang were chosen for this production because of their exuberant energy and unwavering commitment to their work.
According to Lu, since its founding in 2012, the group tried to make use of Qinghai's local resources and tell its representative stories onstage.
They planned to stage the story of Base 221 for several years, but never found a suitable point of entry, as the project seemed too grand to be reduced to a stage production.
"At first, we drafted a script that centered on the national plan and the prominent figures in this project, but it seemed a better idea for the production crew to write about ordinary individuals," Lu says.
"For the Honor of My Country is about how these people devoted their youthful years to the base and the project — their dedication, selflessness, passion, and deep love for both their own families and the nation."