Digital governance a key tool to solve problems faced by cities
Share - WeChat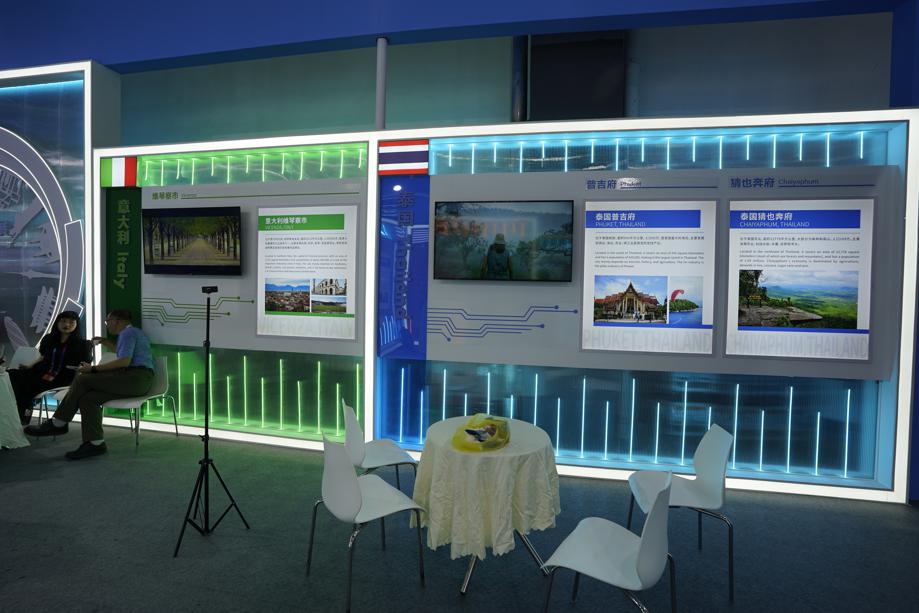 Digital governance is a trend, not a choice, to solve common problems in city development such as aging population, and to improve production efficiency and benefit people in the changing era, experts said at a recent forum.
Many countries in the world have introduced digital tools such as big data and artificial intelligence in smart city construction, and significant achievements have been realized in many fields such as agriculture, education and industry.
At a newest smart animal farm developed in Palmerston North, New Zealand, the AI monitors the cows and allows them to roam freely so there's little human interference.
"There will also be an area with digital monitoring to allow the cow to go into that area and scratch its back on its own when it needs to. There's also the automation of milking process so when the cow feels like it needs to be milked it will go into the system and gets itself milked. There is very minimum human labor needed," Gabrielle Loga, international relations manager of Palmerston North, told China Daily at the Smart City Forum for International Friendship Cities in Guiyang, Guizhou province, on Friday.
"The application of AI is not only great for the production itself but also has boosted tourism, particularly popular with children for education purpose," she said, adding that hopefully the city will collaborate with Guiyang in smart farming soon.
In Palmerston North, the city council always engages with its residents for consultation on public issues. So there will be "thick documents or submissions with lots of words" and "traditionally it is labor-intensive and time-consuming to read through all the submissions", according to Loga.
"However, since we have been experimenting with large language models, the AI has been able to help to go through submissions much faster, so we are able to encourage more submissions in future and understand more of what our residents want," she said.
The city also adopts intelligent monitoring in environmental and endangered species protection. It puts importance in green buildings and sustainable construction. As a 31-year sister city of Guiyang, it hopes to continue to cooperate with the city in agricultural technology, smart learning and digitalization but also looks to expand cooperation with Guiyang in other areas such as commerce and eco-tourism, said Loga.
The Busan city of South Korea, as the first demonstration smart city approved by the country in 2018, has introduced innovative services such as real-time water quality management, smart parking, intelligent medicine and zero-carbon applications in its 28,000-square-kilometer Eco City area.
In January last year, 65 families moved into Eco City to experience the services, and local authorities solved problems before the whole technological system can be expanded to more areas, said Kim Myogeum, chief representative of the Shanghai office of Busan, at the forum.
"Busan became a super aging society in 2022, and there are many old residents who live by themselves. We observe behaviors and state of these people so help and care can be offered in time," she said, adding that the use of technology aims to offer a healthier and cleaner environment so that residents can live a good life.
The city ranks first in smart city construction in South Korea, according to Kim.
In Tripolis of Greece, devices were installed at all public areas to monitor consumption of public energy. By intelligent calculating, resources needed to grow a crop can be learnt to avoid excessive consumption. Besides, as flood often happens, it developed alerting system to remind residents of danger, Konstantinos Tzoumis, mayor of Tripolis, told the forum, a part of the China International Big Data Industry Expo 2023, which concluded on Sunday.
This year is the first time for the expo to resume offline events after the COVID-19 and it's the first time for a special booth offered to exhibit experiences and achievements of 13 cities from eight countries — Greece, Italy, South Korea, New Zealand, Spain, Thailand, the United Kingdom and the United States.
Bernadia Irawati Tjandradewi, secretary general of United Cities and Local Governments Asia-Pacific Section, said that sharing experience in digital governance is very important because cities and local governments have good information to make high productivity and help people live comfortably.
"Like from this forum we'll learn how the cities have been using technology for creating smart cities in all fields like agriculture, health and education. This learning also inspires other local governments to do better as well," she said.
The organization, which connects 140,000 cities from 140 countries and regions, plans to build a digital governance committee to help more local governments and cities to embrace digitalization and sustainable development, she added.