Museums place sustainability in the spotlight
Share - WeChat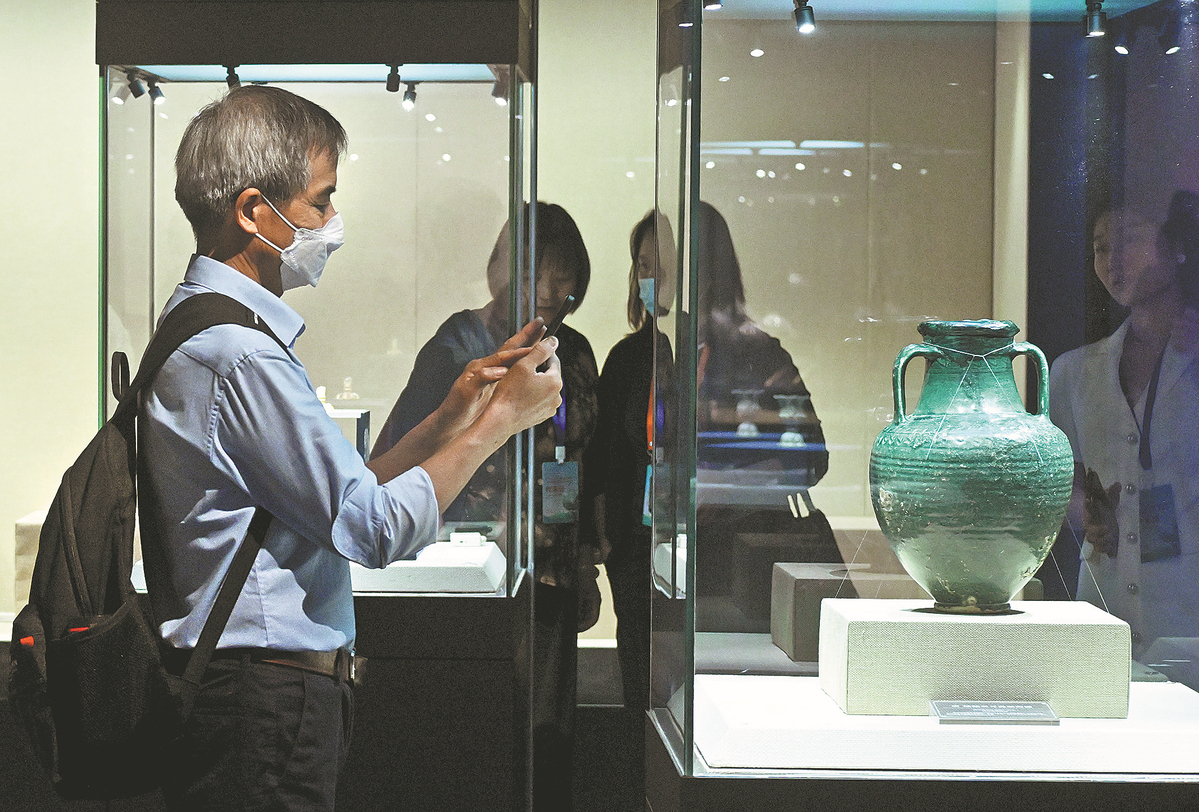 Green, low-carbon solutions sought by institutions
A harmonious scene of peaceful coexistence between humankind and nature unfolds on a fan that resembles a tree.
A bird flies freely in the sunshine; a variety of lush plants grow as a rabbit hides among them; and a girl plays on a swing, her long hair flowing in the wind.
Designed mainly by Jusuk Ma, a French university student who worked as an intern for the International Council of Museums, or ICOM, in the past year, these scenes compose the official poster for International Museum Day this year, an annual event that promotes the importance of museums.
The theme for this day, which fell on Thursday, is "Museums, Sustainability and Well-being". Zhao Feng, a member of the ICOM executive board, said the poster is closely linked to this theme, which focuses on global health and well-being, climate action and life on land.
Museums worldwide have attached greater importance to sustainability in the past two years. Last year, "Museums foster diversity and sustainability" was added to such institutions' role at the 26th International Council of Museums General Conference in Prague, Czech Republic.
ICOM said: "Museums are key contributors to the well-being and sustainable development of our communities. As trusted institutions and important threads in our shared social fabric, they are uniquely placed to create a cascading effect to foster positive change."
International Museum Day was launched by ICOM in 1977. Every year since 2009, China has chosen a major venue to stage nationwide activities to celebrate the day. Fujian Museum in Fuzhou, capital of Fujian province, was the main venue this year, playing host to exhibitions, academic forums, light shows and many other activities last week.
Li Qun, director of the National Cultural Heritage Administration of China, said Fujian used to be an important starting point for the ancient Maritime Silk Road. Quanzhou city, Fujian, a center of maritime trade during the Song (960-1279) and Yuan (1271-1368) dynasties, was added to UNESCO's World Heritage List in 2021, with the attribution "Quanzhou: Emporium of the World in Song-Yuan China".
This year marks the 10th anniversary of the Belt and Road Initiative. To commemorate the occasion, the exhibition Good Fortune Sails Across the World: The Cultural Hallmarks of the Maritime Silk Road opened at the Fujian Museum on Thursday.
The exhibition features 295 artifacts from the ancient Maritime Silk Road loaned by 35 cultural institutions and museums in China, including the Palace Museum in Beijing, the Shanghai Museum, and the China Maritime Museum in Shanghai.
A highlight of the display is a model fuchuan, also known as the Fujian vessel, one of the four types of ancient wooden sailing boats in China. With its flat deck, V-shaped hull, good stability in the water, and large capacity, the fuchuan was often used as a cargo vessel after the Song Dynasty.