Baidu to launch its own phone soon
Share - WeChat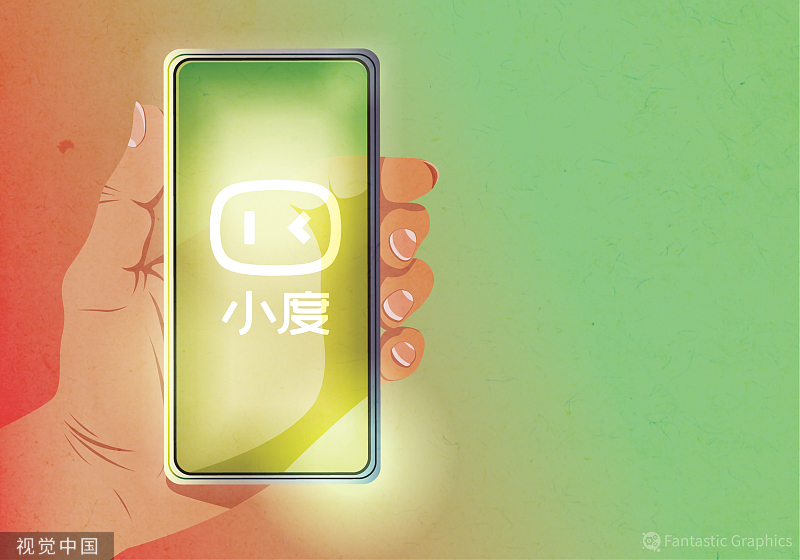 Xiaodu, the artificial intelligence-powered voice assistant unit of Chinese tech heavyweight Baidu Inc, said on Monday it will officially launch its first smartphone later this month in a bid to grab a slice of the world's largest smartphone market amid intense domestic handset competition.
The company said the device will integrate the company's capacities in AI-related technologies, calling it "a new species" in the smartphone segment, and more product details will be announced next week.
Xiaodu is the developer of DuerOS, a voice assistant system based on AI that supports television, speakers and other smart home appliances. Baidu said in its latest financial earnings that Xiaodu smart home systems were linked with more than 200 million units of devices covering 70 categories of smart household appliances and 1,200 well-known brands last year.
Xiaodu topped the list in smart speaker shipments in China for the first three quarters of 2022, said market research firm International Data Corp. The company has expanded its product portfolio including smart screens, tablets, headsets and televisions.
Xiang Ligang, director-general of the Information Consumption Alliance, a telecom industry association, said, "Xiaodu hopes to combine its strengths in smart voice interaction technology with a wide range of hardware devices," adding that the new smartphone is likely to have access to Baidu's large language model and other core AI capacities.
Xiang said that knowing how to make innovations and breakthroughs in core technologies is key to convincing tech-savvy consumers, who have not yet switched their smartphones, to upgrade to new models.
In March, Baidu introduced Ernie Bot — its AI-powered large language model and ChatGPTlike chatbot product — which boasts capabilities in fields such as literary creation, business writing, mathematics and understanding Chinese. The company said it plans to embed its AI tools into all major business lines, including in search, autonomous driving and smart gadgets.
Data from IDC showed that 65.4 million smartphones were shipped in China in the first quarter, down 11.8 percent year-on-year. The market continued its double-digit decline since the first quarter of 2022.
Oppo climbed to the top spot with a 19.6 percent market share, while Apple dropped to second place, accounting for a 17.6 percent share in China's smartphone market, followed by Vivo and Honor, which secured third and fourth places and took up 17.3 and 16 percent market shares, respectively.
Guo Tianxiang, a senior analyst from IDC, said Xiaodu's new handset might focus on students and integrate Baidu's capabilities in AI large language models. "However, it is very difficult for a newcomer to compete with major smartphone makers against the backdrop of sluggish growth in the country's highly saturated smartphone market."
Noting that competition in China's smartphone market is heating up, Zhang Mengmeng, a research analyst at Counterpoint Research, said Baidu lacks experience in phone manufacturing and will also encounter challenges in expanding retail channels and brand development.
Although shipments of Huawei's smartphones dropped dramatically due to US government restrictions, no domestic brands have succeeded in expanding their presence in the premium segment, Zhang said, adding that it takes a long time to nurture a high-end phone brand.