Cultivating a more vibrant market for platinum jewelry: Challenges and opportunities
Share - WeChat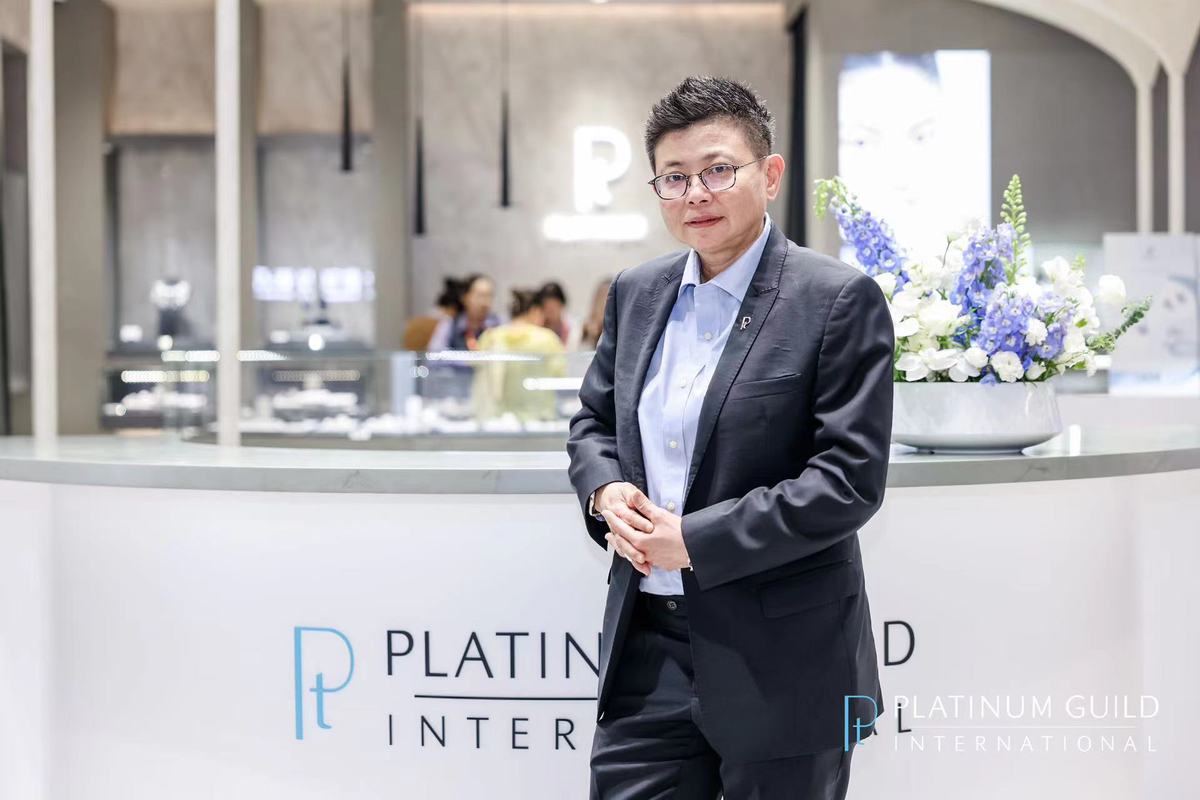 The jewelry industry is increasingly trending toward a younger demographic, reflecting the market's changing preferences. To cater to this trend, Platinum Guild International (PGI) is leveraging the resources gathered at the China International Consumer Products Expo 2023, with dual exhibition areas situated in Haikou and Sanya, Hainan province, to showcase their innovation and professional foresight.
PGI has been working to cultivate and guide Chinese consumers' passion for platinum jewelry by providing a full range of support to promote the local platinum jewelry industry and has achieved great results. PGI is also working with industry peers to innovate partnership models and explore new development opportunities for the platinum industry, all aimed at supporting the trend toward a younger demographic and fostering a more dynamic market.
"In 2000, China became the world's largest market for platinum jewelry. Currently, China's platinum jewelry industry has grown into a mature category, and this success could not have been possible without PGI's promotional efforts in China," said Pui P. Poon, managing director of Platinum Guild International China. "However, changes in consumer habits are currently affecting the jewelry market," she explained. Pui further elaborated that the challenge is that consumers are now placing increasing importance on the emotional value of jewelry, in addition to its design.
On top of changes in consumer preference, changes in consumer purchasing habits in recent years, with online shopping becoming one of the primary methods of purchase also posed challenges for the jewelry industry. Speaking at the expo, Pui highlighted, "Even though online jewelry sales have been increasing in recent years, the expansion of offline stores remains the main driving force of sales growth in the jewelry industry." In 2021, even though only 50 percent of consumers claim that their last purchase of luxury items was at offline stores, this represents 78 percent of the total sales value, according to the 2021 TMIX BCG Luxury Consumer Survey.
Pui gave an example of couples preferring to purchase wedding bands in physical stores as it is an important milestone in their life journey, a moment to cherish and remember. The difference between the online and offline marketing of platinum lies in the customized communication available online, which captures the attention of young consumers, while brick-and-mortar stores offer a more immersive shopping experience.
Thus, Pui emphasized the need for integration to ensure that retailers combine both online and offline data to gain a more comprehensive understanding of their customers, enabling them to effectively meet their needs. In one of PGI's main partner programs, online marketing is used to attract target consumers, who are then encouraged to visit an offline store where trained sales associates can provide a complete story behind the beauty of platinum jewelry. This way, customers can see, touch and feel the innovative designs and get a more immersive shopping experience.
"Obviously, there are some critical issues in the jewelry industry that need to be addressed: why buy jewelry under the current background? Why buy now? And where to buy?" Pui said, "Innovation is the answer to all of this. The industry needs more innovation to meet the constantly changing consumer demands."
Therefore, PGI has put forth three concrete ways to support the industry's innovation path, which include drawing in younger consumers, establishing branded platinum collections, and creating a seamless omnichannel experience that integrates online and offline shopping.
"In my opinion, I believe that capturing young consumers is the lifeline to the industry's future. However, the things that young people like are very diverse, so there is fierce competition from both inside and outside the industry. At the same time, the consumer group is becoming younger and the topics they are interested in are changing rapidly, which poses a challenge for all industries," Pui said.
In China, the post-95 generation makes up 13 percent of all consumption, exceeding the global average of 8 percent. Moreover, the 260 million Generation Z consumers in China, mainly born in the 1990s, contribute 50 percent to the luxury market share.
To attract young consumers, it is necessary to truly immerse oneself into their group. Brands need to deeply understand their lifestyle and interests, and find ways to seamlessly integrate their products with them. This can involve innovative approaches like offering virtual jewelry in the metaverse. While it may be difficult to monetize, it should not be ignored, as a survey conducted by Virtue Worldwide in 2022 found that one-third of respondents had already purchased digital fashion items.
When talking about establishing branded platinum collections, currently only 15 percent of high-end jewelry in China is considered branded jewelry. PGI has identified the inherent potential of branded jewelry and has promoted the branding of platinum jewelry over the past few years, opening a new path of growth for platinum and driving the development of the industry. PGI's market observation has also revealed that establishing an emotional connection with consumers is a crucial factor for successful branding of jewelry collections, going beyond just having attractive designs.
As Pui stated, "We need to give jewelry more emotional significance, so that it is not just mere decoration but can carry more meaning and accompany consumers on their growth journey. "The Pt Moment®collection, created by PGI, is an example of this effort. With its slogan "Tenacity Powered Elegance, emboldened by Platinum", the collection resonates with young female consumers who take pride in their elegance despite facing societal challenges and stereotypes. The use of platinum in the designs symbolizes their tenacity to be their authentic selves, and pays homage to the growing economic impact of women, also known as the "her economy", which has become a focal point in the consumer market.