Restaurants struggle to attract waiting staff
Share - WeChat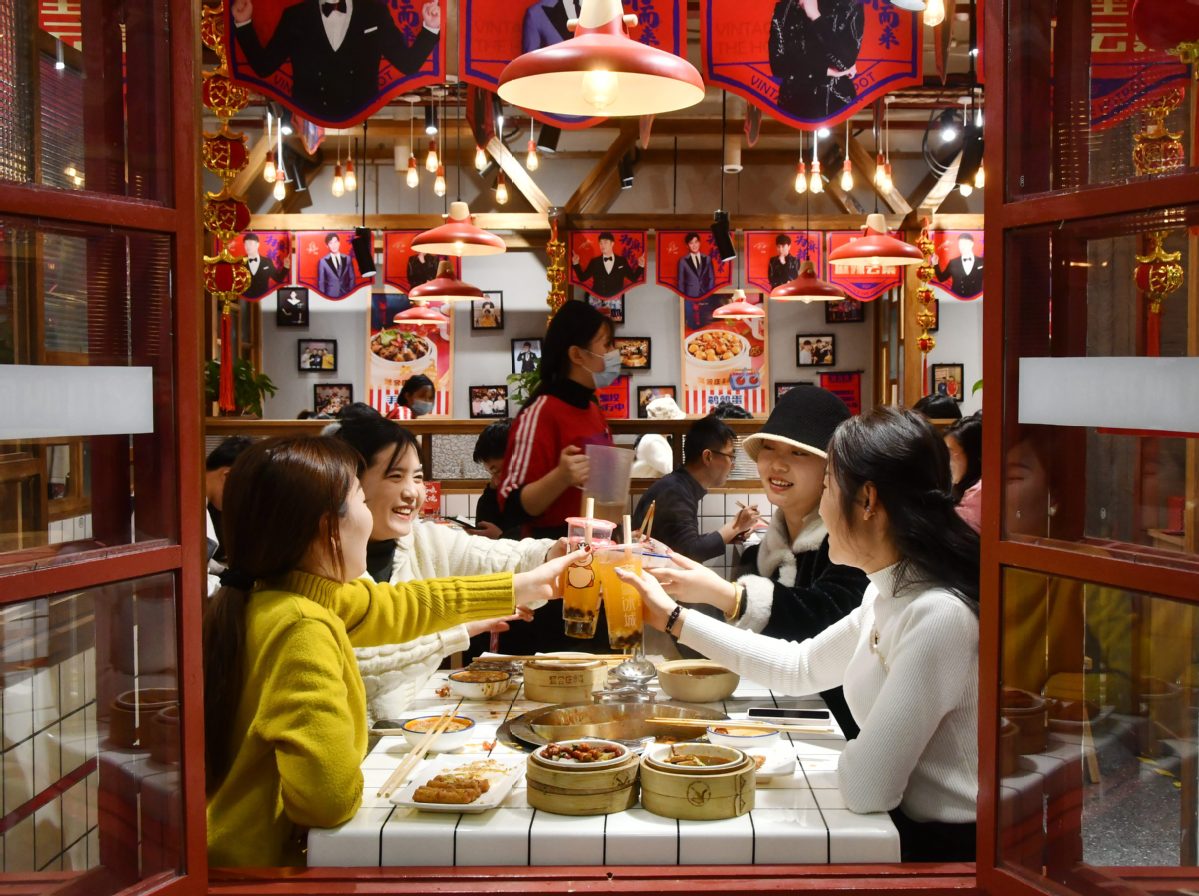 Many workers prefer delivery work as it is more flexible, pays well
A recent job fair at Henan University of Economics and Law sparked heated discussion after several catering companies recruited dishwashers for a minimum monthly wage of just 2,000 yuan ($290) at the event.
The university's response was that the job fair was not exclusively for students, it only provided the venue and non-students were welcome to attend. The incident, nonetheless, has brought wider public attention to the severe shortage of staff in the restaurant industry, which has become more prominent since China downgraded its COVID-19 management measures from class A to class B on Jan 8.
Zhou Jiawang, who runs a hotpot restaurant in Nanjing, capital city of East China's Jiangsu province, told China Food Newspaper that six servers resigned on the last day of the Chinese New Year holiday in January. He started recruiting staff at a job fair on the same day, but was only able to hire one server and one dishwasher.
A manager at a popular restaurant in Guangzhou, capital city of South China's Guangdong province, said to China Food Newspaper: "Normally we pay an hourly rate of 17 yuan for part-time workers. Although we increased the offer to 30 yuan and offered additional benefits during the Chinese New Year holiday, we received very few queries after advertising the vacancies on various platforms for over a month."
According to figures from recruitment portal Zhaopin, as cited by Hangzhou Daily, the number of job vacancies in hotels and food and beverage businesses posted during the first week after the Chinese New Year holiday increased by 40 percent compared with the same period of 2022, ranking first among all industries.
A food delivery driver surnamed Li, born in the 1990s, said he worked as a waiter most of the time after graduating junior middle school. But in the past two years, he has worked as a food delivery driver, according to a report by canyin88.com, which specializes in reporting and analyzing news and trends in the F&B industry.
As for the reason, Li said as a waiter, he had to run around all day without much opportunity to take a break, and the working hours were too long with few holidays, leaving almost no free time.
He said waiters are prone to both physical and mental fatigue, and the salaries are generally not high, with limited room for advancement. Therefore, he would rather choose a more flexible job as a food delivery driver where more work means more pay.
Wang Jun, a Hubei province native, who used to work as a waiter, now works as a ride-hailing driver in Nanjing. The 25-year-old told China Food Newspaper that as a waiter, he needed to apologize for even the slightest of mistakes and often felt wronged.
In recent years, he said, food delivery drivers and ride-hailing drivers are much more respected than restaurant waiters. He would rather choose one of these jobs that is more profitable and gives him a stronger sense of professional identity.
To address this labor shortage, many catering companies are exploring new approaches, such as increasing the number of flexible workers, promoting digitization and automation to reduce reliance on human labor, and introducing employee incentive mechanisms to give front-line staff greater opportunity to advance their careers.
Fan Ning, an expert with canyin88.com, said that besides recruiting new staff, retaining current employees is crucial to tackling the shortage.
"It is essential for catering companies to be willing to spend money to retain people. For example, they can increase the proportion of seniority-based wages in the 'basic salary plus attendance award' wage system," Fan suggested.