Italian fashion brand Marni pays tribute to sunset
Share - WeChat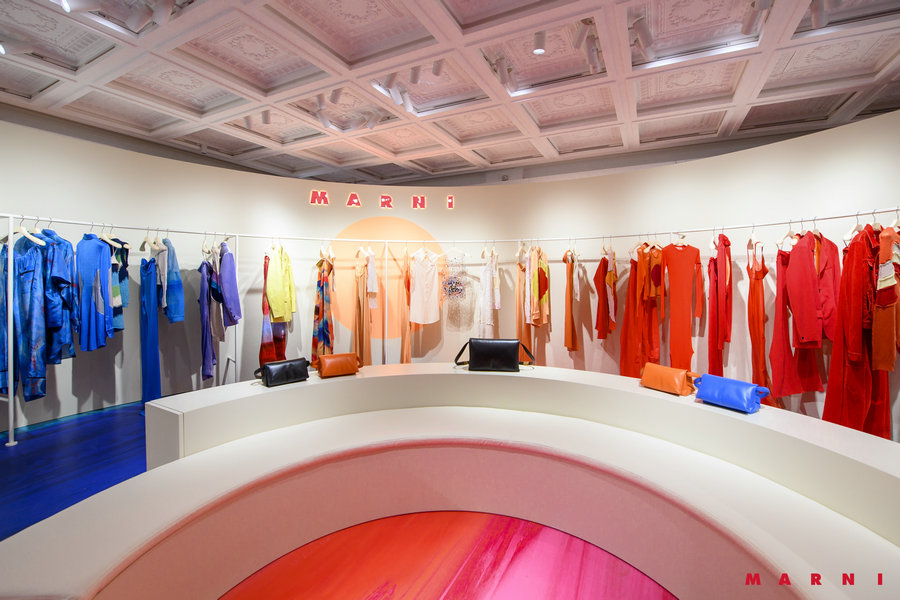 Italian fashion brand Marni opened "Sunset" art installation space at Renheng Cang Street in Suzhou, east China's Jiangsu province, on March 10. It is an extension of the inspiration behind the brand's Spring-Summer 2023 collection. With sunset as a prelude, it sings the praises of a never-ending dusk, presenting viewers with an artistic feast where avant-garde fashion meets ancient architecture.
The space takes a fresh look at the theme of Marni's Spring-Summer 2023 collection fashion show, creating a fantastic, whimsical world of color inside a historic ancient city. There is a "light corridor" composed of the mesmerizing color spectrum of sunset, moving through different scenes to portray a mirror image of sunset. A large screen plays videos of the Marni 2023 Runway Show in New York, savoring a never-ending dusk.
The first floor is decorated with a rainbow-like image inspired by the colorful pattern that Italian artist Flaminia Veronesi created for the Spring-Summer 2023 collection. Visitors can follow the sunset into the boutique shopping area, where Marni's Spring-Summer 2023 collection is on display. On the second floor, the store revisits the concept of sunset, presenting a warm, bright, and unique space. This is where the soft calfskin Prisma bag, the East West Trunk accordion bag, and the new Dada Bumper casual footwear can be viewed.