Qingdao plays leading role in high-tech moviemaking
Share - WeChat Advanced center becomes hub of blockbuster industry
The movie The Wandering Earth, released in 2019, earned 4.7 billion yuan ($690.3 million) in box office revenue, setting a record for Chinese sci-fi movies. The film was adapted from famous Chinese sci-fi writer Liu Cixin's novel of the same name.
During the recent Spring Festival holiday, the sequel, The Wandering Earth II, was also a hit. It had earned nearly 3.5 billion yuan at the domestic box office by Feb 8, plus more than $4 million overseas.
The two hit movies had a common origin — both were shot mostly at China Movie Metropolis, an industrial park for movie and TV production. The facility in Qingdao, Shandong province, was designated a UNESCO Creative City of Film in 2017.
CMM, anchoring the city's film-making industry, is one of the largest movie studio complexes, built with an investment of more than 50 billion yuan, officials said. There are 40 sound stages covering a total of more than 3.4 million square meters, about the size of 500 soccer fields. It also has world-class outdoor pools and heated indoor pools, 32 set workshops, a complete digital post-production center and the biggest virtual shooting and production platform in Asia, officials said.
Since CMM opened in April 2018, it has undertaken more than 90 movies and TV dramas, 22 variety shows, 44 large-scale events and more than 70 commercials. Those movies have generated a total box office income of 22 billion yuan.
Movies produced at CMM have included some international productions such as Godzilla: King of the Monsters and Pacific Rim: Uprising.
The crew of The Wandering Earth arrived at CMM in 2017, before the park was complete, and stayed for nearly a year, using eight sound stages. The crew returned in 2021 to shoot the sequel. They used 17 sound stages and sets totaling nearly 1 million square meters, 10 times that used in the first movie.
"CMM is the first choice for shooting a high-budget movie like The Wandering Earth II because its sound stages and facilities, which are at an international first-class level, do a good job meeting the needs of filming," said Guo Fan, also known as Frant Gwo, director of both movies.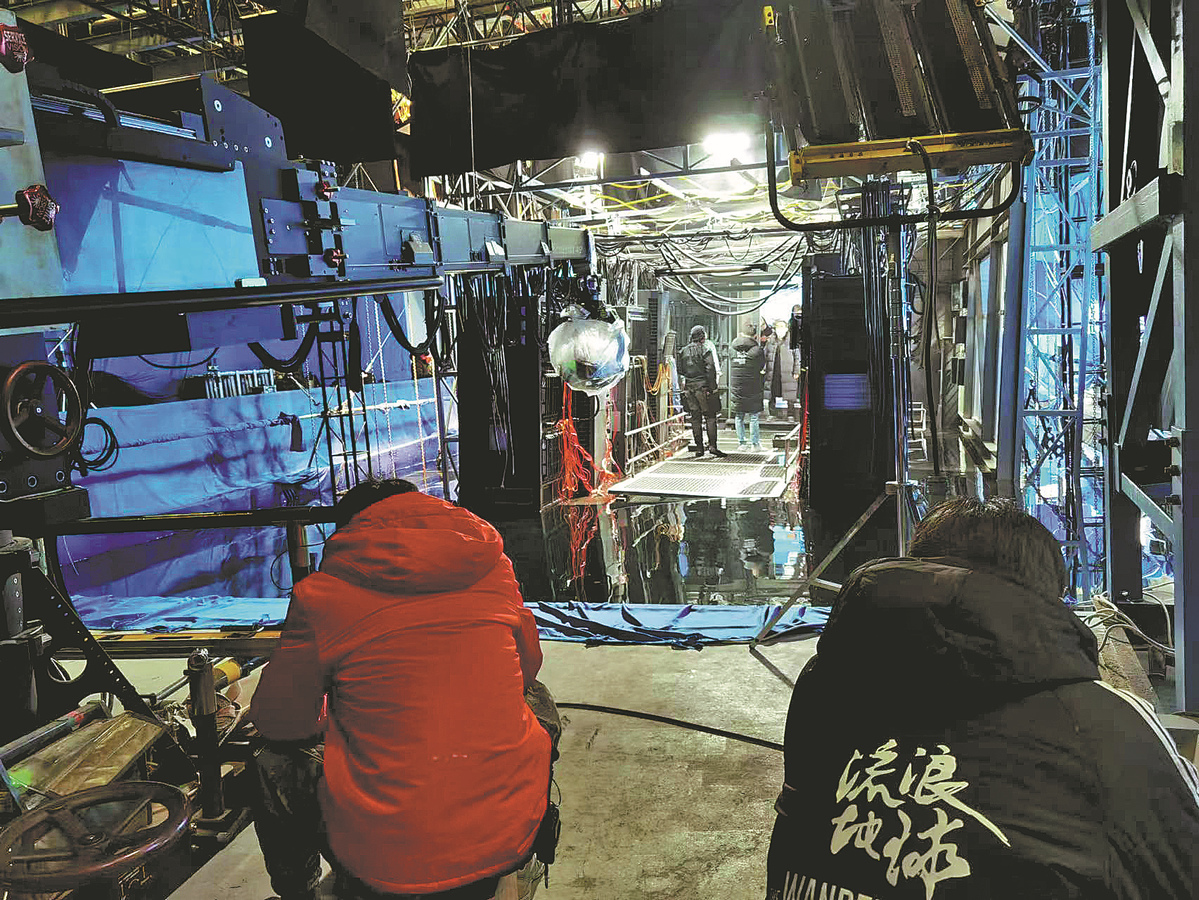 The studio complex has China's most comprehensive digitalized virtual sound stage, combining multiple cutting-edge techniques — including motion capture, 3D scanning and real-time rendering. These are advanced processes to record objects and movements and render them into realistic-looking animation.
Four months before filming started on The Wandering Earth II, the crew used a virtual platform at CMM to digitalize the entire filming process, which helped them later in making needed adjustments and changes.
"To some extent, CMM has enabled Chinese blockbusters to enter the global market," said Sun Hengqin, president of the studio complex, adding that fascinating stories and miraculous scenarios in sci-fi movies are also a product of huge progress in China's heavy industry and movie business.
Cangmashan Film City, a facility that is complementary to CMM, offers more than 30 hectares for location shooting, including clusters of Chinese and Western buildings in both historic and modern styles.
CMM has attracted more than 800 entertainment companies, including those specializing in visual effects, audio production, art, costumes and props, animation and underwater shooting. The companies, including some domestic business leaders, have formed a cinematic industry chain that includes investment, production, technical support and release and promotion specialists.
CMM's development has also spurred growth in areas nearby. More than 3,000 companies have been drawn to the area, such as those providing 80 apartment facilities offering accommodations to crews. The companies have provided about 50,000 jobs for locals, officials said.
In July 2022, the government of Qingdao West Coast New Area, where CMM is located, issued a plan for the continued high-standard development of the movie and TV industries.
The plan included the Film and Television Industry Development Center, the first authority specializing in management and services for the movie industry created by a local government in China.
"Qingdao's movie industry center will not take the old approach of homogeneous competition, but will rather develop in a high-tech, industrialized way," said Zhao Fang, director of the center. "We will make efforts to build a 'digital cinema metropolis' with international standards, and help Chinese original movie and TV works soar."
With a one-stop service platform in place, the authority has been able to ensure supplies and services are available for 1,500 people to work and live in the area. Thanks to joint pandemic prevention and control and a dynamic personnel information management system for crews, not a single case of COVID-19 infection was recorded in the area last year, officials said.
The local government also promotes the industry by organizing influential events such as the Qingdao Film and Television Expo and the Qingdao Trade Fair on Application Products for Digital Culture.
The expo, first launched in 2020, has attracted more than 3,500 guests from China and overseas. Deals representing more than 100 movie and TV-related projects have been signed, with a total contract value of 32.5 billion yuan, officials said.
The provincial government's plans call for CMM to play a leading role in fostering a movie industrial chain with annual revenue of over 100 billion yuan by 2025 as part of the efforts to boost Shandong's cultural and tourism business.