Soccer helping them realize goals
Share - WeChat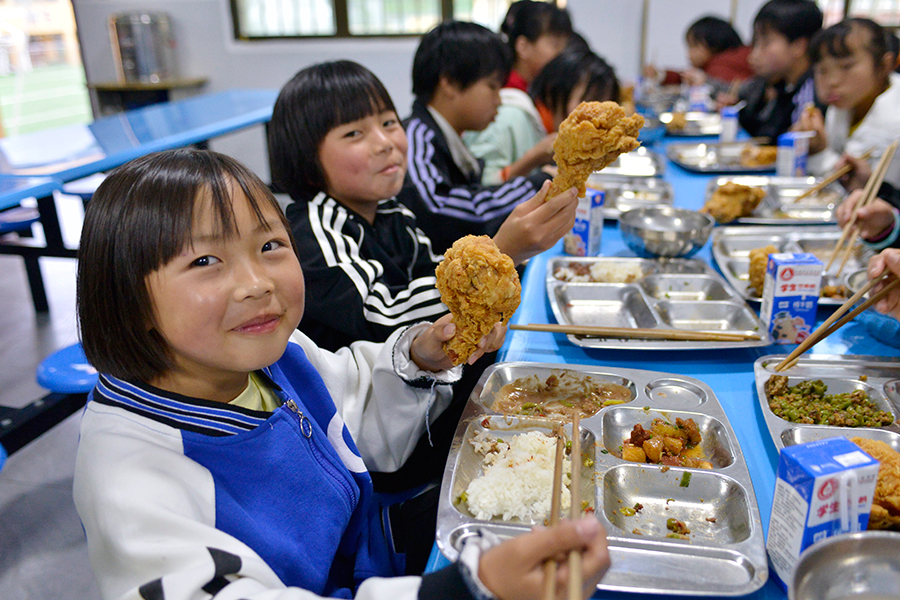 Role models
In 2020, five players of the Yuanbao soccer team secured a chance to get professional training at the Guangzhou Polytechnic of Sports. The school has trained several world champions such as diving champion Quan Hongchan.
The selected girls will complete their education from primary school through college in Guangzhou, and represent the city in soccer, Xu said.
Five months after training in Guangzhou, the five girls went back to Yuanbao to join their home school's soccer team and play a game in Kunming, capital of Yunnan province. The Yuanbao team won the championship, a victory that Xu treasures the most.
Exchanges with the five girls motivated younger players in Yuanbao a lot. Wang Jiayue, one of the five girls, became the "Top Campus Scorer".
A player recalled that Wang showed them how to find their way with a ball on the ground, how to warm up before a match and what to do after a match, and all these were techniques they had never heard of before.
And the younger players saw that the five girls' Mandarin is much better, and they speak some English too.
However, it has not been easy for the five girls to adjust to life and training in Guangzhou. After all, the youngest was just 10 years old and the oldest 12 when they went to study around 1,000 kilometers away from home.
After training in Guangzhou, Wang realized they knew so little earlier. "The training here is much harder. Their technique and speeds are much better than ours," said Wang.
The five girls also face difficulties learning Mandarin, mathematics and English.
"We don't understand what they are saying in English," said Wang. Also, the girls were often homesick as the food in Guangzhou is very different from that back home.
In such moments, they thought of Xu and texted him. He, in turn, encouraged them to be strong and stay on.
"It's normal to be homesick. After all, they are so young. It takes time to get used to a new environment," said Xu.
The young players who have walked out of the mountainous regions are contributing to the development of their hometown school in their own ways.
Wang, who attended the Union of European Football Associations Nations League, took the story of the girls' soccer team to the world stage last year, and Zhang Ziyan, who became the champion of a soccer match in Guangdong province donated her medal to Yuanbao Primary School to encourage her younger brothers and sisters.
The residents of Yuanbao village feel the five girls have walked out of the mountains to a bigger world with their good performance and become an inspiration for other girls.
The team leader, Wu, looks forward to getting a chance to study in a bigger city. Her elder sister, who joined the Yuanbao soccer team in 2017, got admission into a good junior middle school in the county with her good performance on the field and is now studying in a senior middle school in Chongqing.
This brought hope to Wu's mother, who believes playing soccer creates opportunities for people in the village.
To accompany Wu, and also help the soccer team, she stopped working in the cities and returned to the village in 2020 to cook for the soccer players, even though the pay is much less than that she earned in the cities.
Xu's expectations
When he organized the soccer team, Xu never expected it would pave the way for children in the mountainous region, especially the girls, to realize a better future.
In the beginning, he was able to play soccer with his students without any pressure.
However, as the school's popularity increased because of the soccer they were playing, Xu's pressure kept mounting. He now needs to shoulder the hopes of more children, and their parents too.
Some girl students transferred themselves from other schools to Yuanbao in order to be able to play in the soccer team and get admission into a better junior middle school.
Some soccer players were spending more than an hour walking to school, which was affecting their training. The school came to their aid by converting two classrooms into dormitories. The players now live on the campus and get more time to train.
Until 2020, it was Xu who cooked three meals a day for the players. But now, Wu's mother takes care of the same, thus reducing his load.
Despite the satisfaction of doing his job, Xu feels "very tired" easily as he was diagnosed with diabetes two years ago.
"When I came to Yuanbao, I didn't have a plan on how long I will stay here, but now I have to make a lot of plans, from daily training to charting the soccer team's development in the following years," said Xu.
Xu feels bad that he is not a professional football player who can offer optimum training to the young players. He hopes some professional players will come forward to train them and help them learn better playing techniques.