Soccer helping them realize goals
Share - WeChat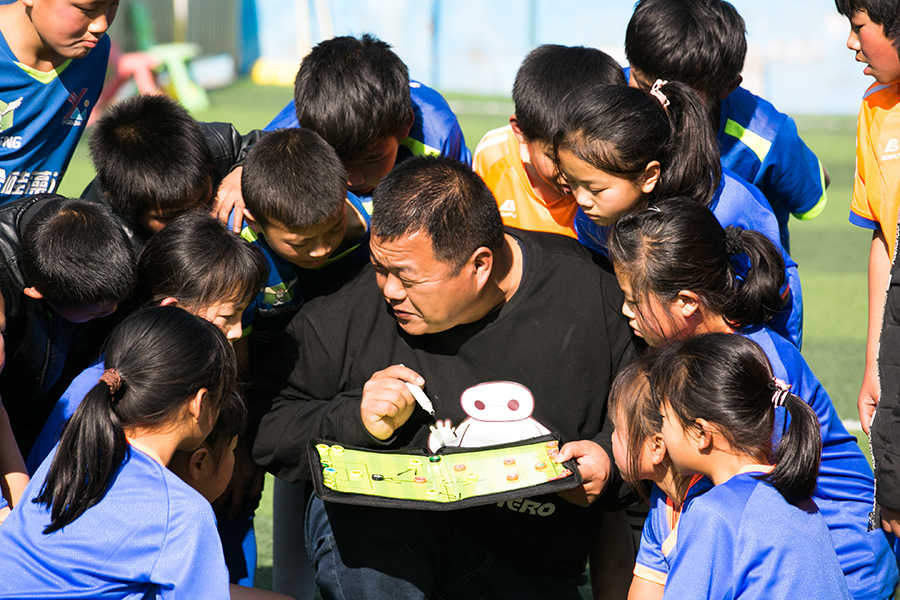 Two footballs and an untrained coach chart a course out of Yuanbao's mountainous terrain for its students
At 6:30 am on any given day in December it is still dark in the mountain village of Yuanbao in Dafang county of Southwest China's Guizhou province. But Wu Yujie, 12, and her teammates were already at the playground of the Yuanbao Primary School for routine half-an-hour exercises and soccer training under Xu Zhaowei, their Chinese teacher and coach.
The soccer team consists of more than 50 girls of varying ages, all students from the second to the sixth grade at the school, the youngest one just 8 years old and the oldest 12.
Wu, the team leader, is the most skilled, knowing her way around with the ball. Anyone who is not good at passing the ball or making a particular move observes Wu.
The girls attend three training sessions five days a week. They train for two and a half hours, from 4:00 pm to 6:30 pm, after school; for half-an-hour after 9:00 pm; and then again in the early morning.
The rigorous training has helped. They have won several soccer championships including national-level ones, earning a reputation as the Yuanbao girls' soccer team.
Their good performance has earned some girls seats in famous schools in big cities. Eight of the girls go to the China Football School of Beijing Sport University in Zunyi, Guizhou province, and five to Guangzhou Polytechnic of Sports in Guangzhou, Guangdong province.
In a way, the sport has paved the way for these girls from the mountains to see a bigger world outside and realize their dreams.
"It's not that soccer is the only way for these children to walk out of the mountains to a better future, but at least, currently, playing soccer offers them a way," said Xu.
Most Popular
Highlights
What's Hot