President's visit spurs hope for Saudi Arabia exchanges
Share - WeChat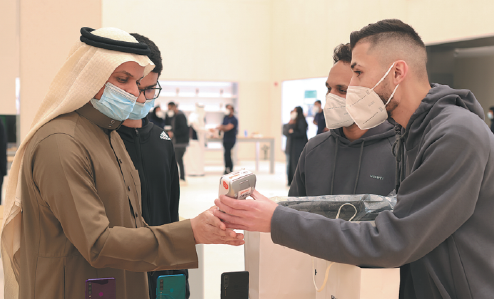 Entrepreneurs hail Xi's trip as 'historic chance' to further foster cooperation
In light of President Xi Jinping's official visit to Saudi Arabia, Chinese companies in the country have been full of hope and expectation that the visit will bring forth more opportunities for cooperation.
Jerry Li, managing and founding partner of eWTP Arabia Capital, or eWTPA, said Xi's visit is a "once-in-a-lifetime opportunity "for his company and a "historic chance that will greatly promote technological development in Saudi Arabia and the country's cooperation with China".
A venture capital firm based in Beijing and Riyadh, eWTPA is backed by Chinese e-commerce giant Alibaba's eWTP Capital and Saudi Arabia's sovereign wealth fund Public Investment Fund, or PIF. It positions itself as a bridge connecting Chinese companies and emerging markets in the Middle East and North Africa.
With its $400 million fund, eWTPA had invested in 16 Chinese firms in the digital sector as of October, 13 of which are now successfully established in Saudi Arabia.
On behalf of Chinese gaming company ONEMT, eWTPA signed an investment agreement with Saudi Arabian Deputy Minister of Investment Saleh Khabti on Dec 8.This cooperation could potentially boost the kingdom's gaming sector and cement its position as a gaming hub in the MENA region.
Following the cooperation summits in Saudi Arabia and Xi's official visit to the country, Li said eWTPA has received inquiries from hundreds of Chinese companies wanting to enter the Saudi market.
"There is still huge potential in the economic and trade cooperation between China and Saudi Arabia, and it is especially the case when it comes to the field of technology," Li said, noting the strong demand from Saudi Arabia for Chinese technologies in areas such as corporate services, entertainment and advanced manufacturing.
Closer partnerships
Brian Liu, sales manager at Shenzhen Mindray Bio-Medical Electronics, is pleased with the transition championed by Saudi Vision 2030, including visa changes, and incentives that saw the creation of investment opportunities.
Liu's company looks forward to closer partnerships with local businesses in all fields in Riyadh. The "friendly Saudi people may get more interested in made-in-China and created-in-China products", he said.
George Huang, CEO of the International Business Group at artificial intelligence company SenseTime, said President Xi's visit to Saudi Arabia will not only enhance the bilateral strategic partnership, but will also allow the locals to know about China, creating more opportunities for Chinese companies there.
SenseTime, which has had a presence in Saudi Arabia since 2018, has a joint venture with PIF to support local talent and deliver innovative AI-powered solutions.
"For business cooperation between different companies, it is important to have a mutual understanding and respect for each other's culture," Huang said.
He also said he hopes to bring China's best practices to the Saudi market through localization and to further expand these solutions across the MENA region.
Li Longgang, managing director of Sinosteel Equipment and Engineering, said the Saudi Vision 2030 matches well with the China-proposed Belt and Road Initiative.
He said Sinosteel, having been in the region for more than a decade, has found that Saudi Vision 2030 provides a better business environment for enterprises, and the summits are injecting confidence that more opportunities will be created for mutual development.
YANG HAN, WILLA WU and WEN ZONGDUO in Riyadh