A step on the road to journey of discovery
Share - WeChat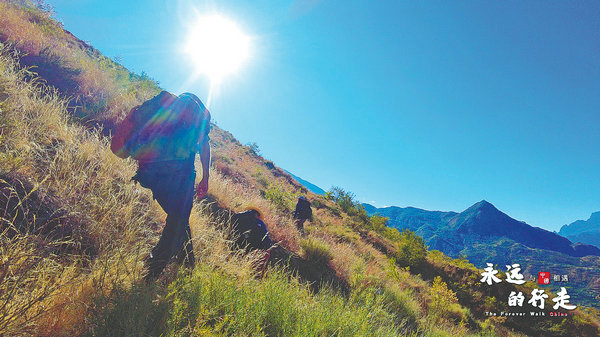 When deciding on the route, Salopek drew the shortest line between Myanmar, where he left for China, and coastal Russia. As it happens, that roughly corresponds to the famous Hu Line, an imaginary line drawn by famous population geographer Hu Huanyong in 1935 to mark the eastern and western regions.
Because every step of the way is new to him, Salopek tries to keep an open mind about where memorable things might happen.
"My route is not always to famous tourist or cultural landmarks," says the explorer who likes to visit grassroots areas to find real life. "It could be someone's dinner table, or the sight of an old ethnic Bai woman calling down from the roof where she's drying her chilies.
"It is all about the ordinary people I meet along the trail. And they have been very warm, good-humored and curious," he says.
During his extraordinary trek across China, Salopek is witnessing the country's achievements, particularly in the fields of ecology, wildlife conservation and cultural inheritance.
"I hiked across other continents emptied of their wildlife by human beings. The Gaoligong Mountains represents a chance for solace," Salopek says while hiking across the mountains in Yunnan.
These mountains, in his eyes, are one of the planet's last remaining vaults of biodiversity, that is, a glimpse into a teeming Earth that once was.
Along the way, he has met members of the Naxi, Tibetan, Yi and many other ethnic groups, and people from all walks of life, including farmers, urban hippies, entrepreneurs, wilderness survival experts, and even a man who claims to be the reincarnation of the fabled poet Li Bai.
"Each encounter with a fellow human being is a milestone — an opportunity to share, learn, and grow," he says.