Digital solutions seen as key to nation's grain security
Share - WeChat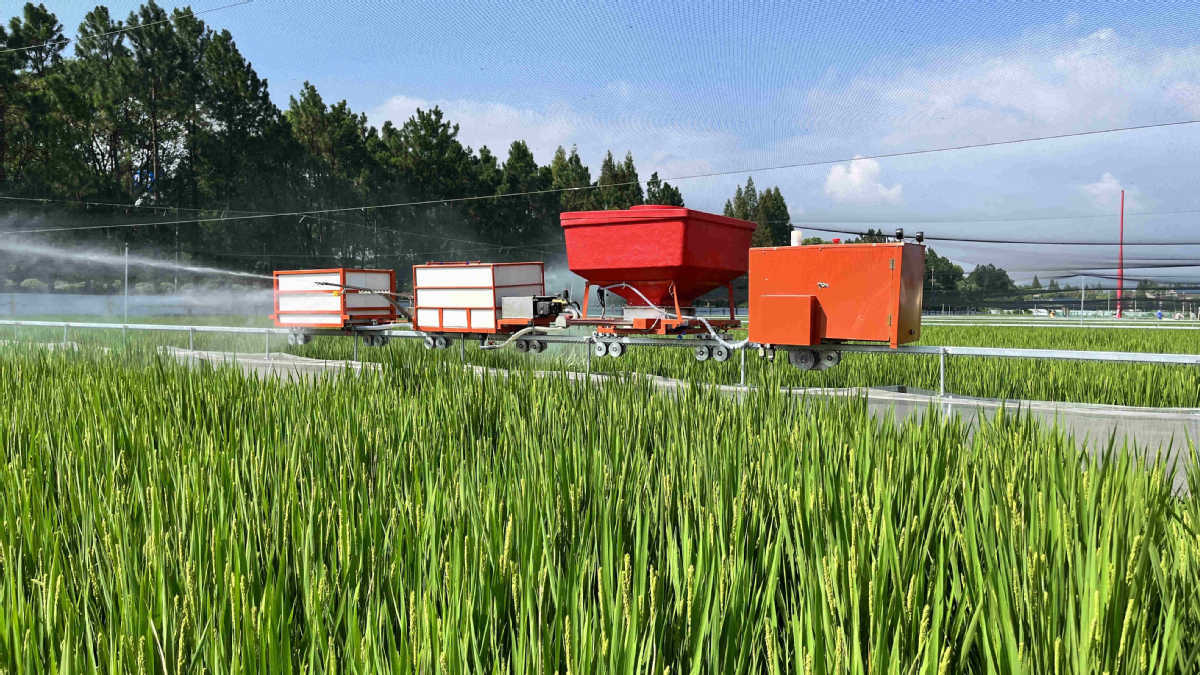 China's grain security will not be disrupted by the soaring prices of many agricultural products across the world next year, thanks to its moves of adopting more digital solutions and high self-sufficiency in staple grain production, said experts and business leaders.
Despite the uncertainties that the world's food and agricultural sectors face over crop yields and global trade flows in the context of climate challenges, COVID-19-related turmoil and logistics issues, they said China, backed by its 1.8 billion mu (120 million hectares) of arable land, new farming technologies and practical grain import policies, is capable of ensuring its grain security in 2023.
As the three staple grains, China's production of wheat, rice and corn remains highly self-sufficient, said Wang Yongchun, a researcher at the agricultural information institute of the Beijing-based Chinese Academy of Agricultural Sciences.
For instance, the nation imported 9.71 million metric tons of wheat in 2021, which is a small proportion compared to the national wheat output of 137 million tons last year.
Zhong Yu, a researcher at CAAS's institute of agricultural economics and development, said therefore price fluctuations in the global market may further push up grain prices and drive China's grain import costs, but it will have a limited impact on the nation's grain security.
While laying a solid foundation for domestic grain production, China cannot ignore the international market. It is vital for China to further secure more import sources for agricultural products such as soybeans, palm oil and feed products in other countries, as well as adopt more digital solutions to boost its grain production, said Zhong.
Feng Mingwei, chairman and co-founder of Hainan Free Trade Port-based ETEXE Technologies Ltd, or Fertex, which provides agricultural technologies and information as well as operational and infrastructure development services to farmers, said, "Agricultural technologies and materials are key to ensuring grain production safely and sustainably."
They are directly related to food security, and the quality and safety of agricultural products, as well as the rural ecological environment and farmers' interests. Among them, chemical fertilizers contribute 50 percent to the increase in grain production, said Feng, who is also a senior member of the chemical fertilizer committee of the Beijing-based Chinese Society of Plant Nutrition and Fertilizer Sciences.
Under such circumstances, carrying out timely and precise fertilization and pesticide applications will not only increase grain production, but also help farmers reduce losses caused by disease and pests, he added.
"Although many companies have entered this market in China in recent years, most of them overwhelmingly concentrate on the consumer side," he said, noting only a few businesses focus on the supply side of the agricultural material industry.
Supported by Syngenta Group China, a business unit of global seed, crop protection and nutrition product manufacturer Syngenta Group, Fertex introduced an agricultural ecological platform that integrates services such as industry information, logistics and trading news, and financial institutions introduction, to facilitate Chinese farmers' daily work in December 2021.
As the platform helps upgrade the traditional fertilizer industry to a digital total-link ecosphere, it has become an ecological service platform with wide popularity in China's agricultural sector.
Driven by higher demand for feed crops, the Rome-based Food and Agriculture Organization of the United Nations predicted in March that China's total cereal imports in the 2021-22 marketing year will be about 58.5 million tons, well above the last five-year average.
Exports of Chinese grains and related products grew by 10.7 percent on a yearly basis to $2.03 billion between January and October, while imports of this kind dropped 0.2 percent year-on-year to $18.25 billion, said the General Administration of Customs.