Germany's Wilo Group to pump more investment into China
Share - WeChat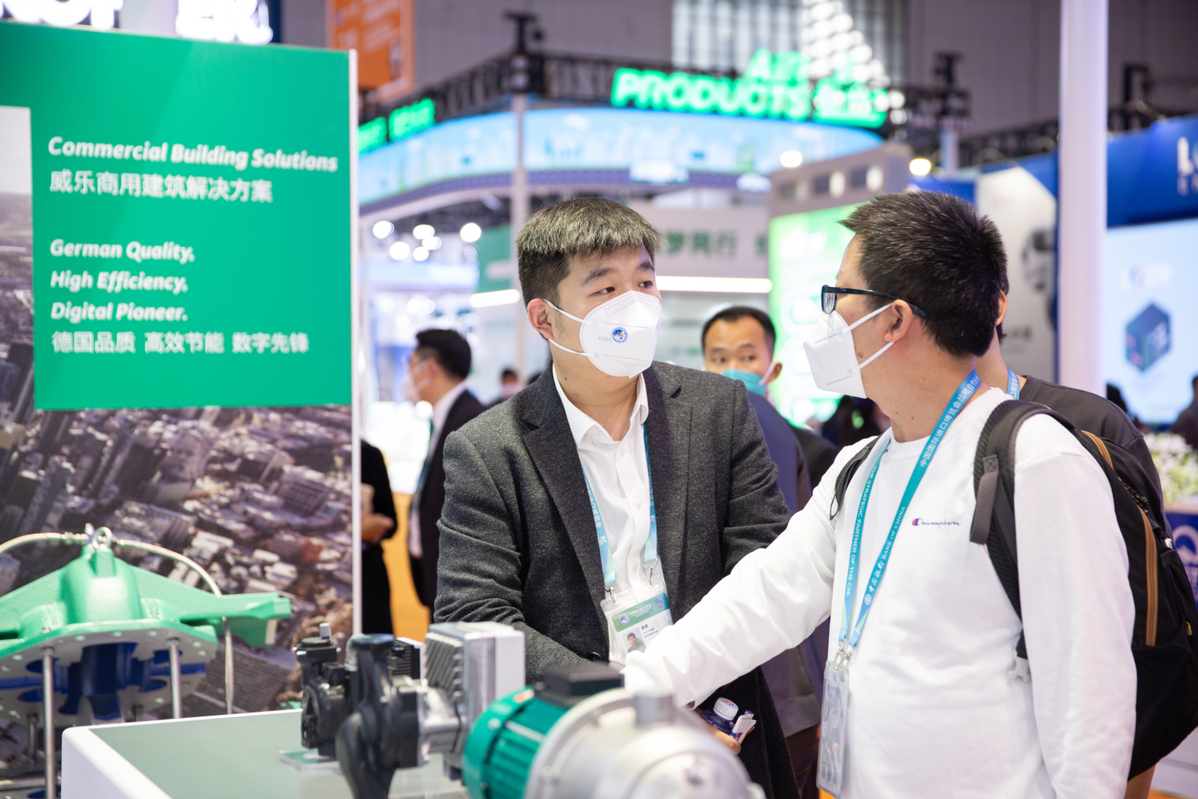 After seeing its sales revenue surge by more than 20 percent year-on-year in China in 2021, Wilo Group, a German provider of pumps and pump systems, will add investment in the country and put a new plant into operation in Changzhou, Jiangsu province, in early 2023, said a senior executive.
Together with other manufacturing bases in China, the new factory's products will not only supply the Chinese market but be exported to other emerging markets, said Lyman Tu, Wilo's vice-president for China and Southeast Asia.
The German company produces water pumps that are used in a wide range of functions, such as cooling and heating systems for central air-conditioning in buildings, sponge city construction and industrial factories.
Founded in 1872 with its headquarters in Dortmund, Germany, Wilo marked its 150th year anniversary ceremony at the 5th China International Import Expo in Shanghai to share its historic milestone with Chinese partners.
Tu said the CIIE has already become a bridge and platform for multinational companies to engage with their customers in China.
"We believe that the CIIE will further unleash China's opportunities and demonstrate the huge potential of the Chinese market for foreign investors," he said.
To achieve the dual carbon goals and keep improving production efficiency at the same time, Chinese industries are undergoing a dual transformation toward digitalization and sustainability, which has raised the emerging need for innovative, green and digital solutions, and has brought numerous opportunities for Wilo to further grow in China, Tu noted.
Wilo currently runs 15 business branches and two manufacturing bases in Beijing and Qinhuangdao, Hebei province.
With the growing importance and potentials of the Chinese market, Wilo has announced further investment in R&D and to enlarge its product portfolio in China in its 2025 strategy.
China's broad market prospects, integrated supply chain and improving market environment are the main reasons for Wilo to expand its presence, said Tu, adding China will likely become the group's largest market by 2023.
Many opportunities also come from China's efforts to efficiently use its water resources, surging demand for high-efficient solutions for businesses from sectors including big data and artificial intelligence, manufacturing, water sewage disposal and treatment, mining, power industry, metals, and commercial building services, said Sang Baichuan, dean of the Institute of International Economy at the University of International Business and Economics in Beijing.