Customers clamor for secondhand luxury goods
Share - WeChat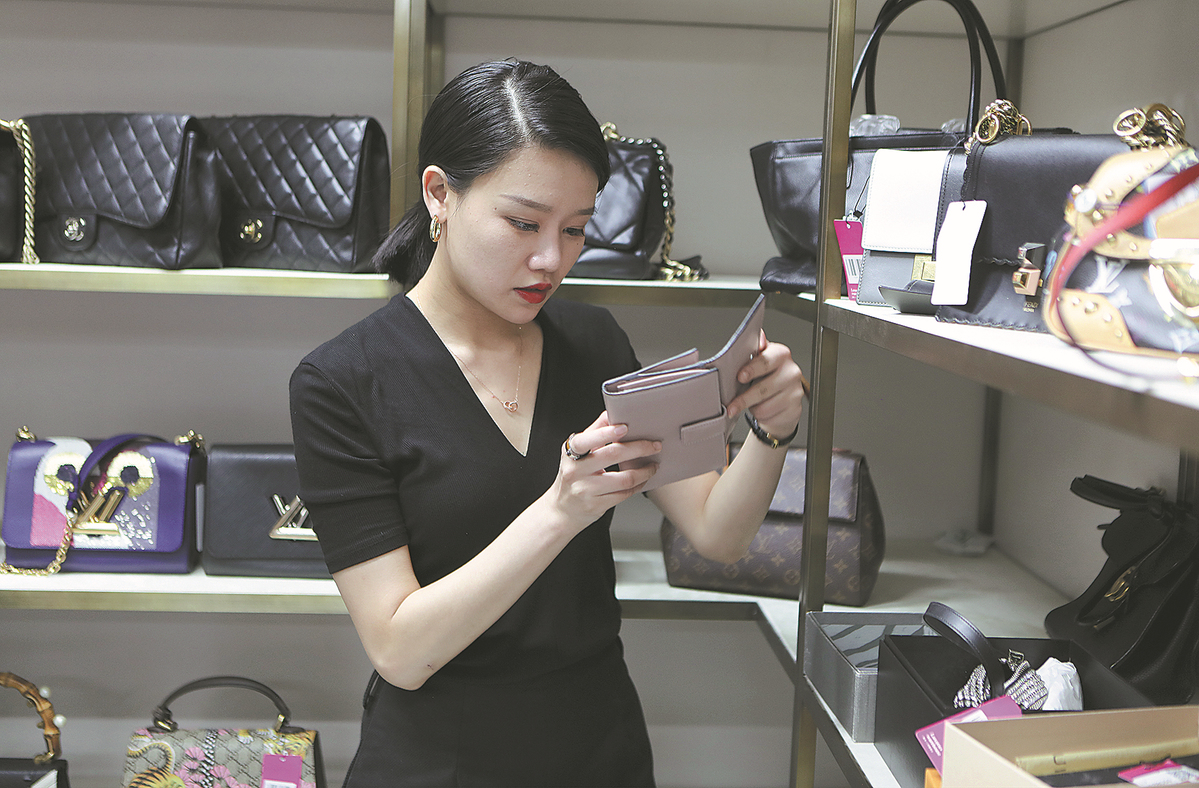 Earning trust
Lei Yuchun, the founder of ANJLE, a leading after-sales professional maintenance and authentication company for secondhand luxury goods, said: "The key to secondhand trading is to be sufficiently professional to earn trust, which is mostly related to authenticity. That's why we focus on offering professional training and guidance to popularize the authentication of secondhand luxury goods."
Launched in Hangzhou, Zhejiang province, in 2008, ANJLE had completed more than 3.6 million orders by September for businesses and individual clients.
Its services include recycling, buying and reselling, initial authentication, maintenance, repairing, training and final authentication conducted by China Certification & Inspection (Group) Co.
To solve problems with authentication and pricing, at the end of last month ANJLE launched Leixiao'an, an online one-stop service system for secondhand luxury goods, equipped with information collected by the company aimed at its business clients.
"The prospects for the industry are bright, so we are keen to standardize the market by introducing a comprehensive online platform for businesses to have products authenticated and assessed, receive related training, and obtain updated analysis on market trends," Lei said.
All goods received by ANJLE must be registered in the company's system by passing internal authentication, price evaluation and data management before being eligible for resale.
The first organization in China to launch training courses related to luxury goods, ANJLE introduced its first such course in 2014 on authentication — making a contribution to regulating pricing standards in the industry. About 10,000 people have completed the training courses before entering the secondhand luxury industry. ANJLE also has 27 offline chain stores nationwide, many of them franchised by former trainees.
To further professionalize the authentication of materials with high technology, ANJLE is working with research institutes equipped with testing laboratories. It is also seeking permission from the central government to issue authorized work certificates on authentication training.
Lei said, "We are trying to offer assistance and guidance for newcomers to improve risk awareness, professional knowledge and anti-risk ability amid growing fierce competition."
Unlike ANJLE, which has focused on its specialized business for many years, Youshe, an online secondhand luxury goods auction platform, has made adjustments in the past five years to meet changing demands. It switched its focus from offline to online authentication in 2017, and then from authentication to online trading in 2020.
Wang Tianchi, founder of Youshe, the first online authentication platform for luxury goods in China, said: "We've noticed that with the gradual improvement and scale of e-commerce platforms, authentication is bound to become a basic tool for secondhand luxury platforms. Therefore, we gradually shifted our focus to online trading with professional authentication and brand influence."
Youshe mainly targets individual customers willing for their products to be authenticated on the platform, before they are sold directly to buyers in the online auction system at the highest bidding price. As a primary source of goods for individuals, Youshe directly reduces the intermediate cost for users by about 30 percent.
Wang said: "For consumers, market prices are not transparent, which leads to reduced trust in online merchants. If the market becomes more mature and consumers become more rational, cost performance and service guarantees will be key concerns in the future."
Youshe is aiming to be technology-oriented by accumulating its trading information and a summary of trading prices in the industry. It also wants to provide users with objective and genuine real-time trading market analysis and promote the establishment of a transparent market trading price system, Wang added.
"Development of the domestic secondhand luxury industry has a long way to go to reach a high level compared with the overseas market, so we have much to do and plenty of opportunities to explore before we have a mature market in five or 10 years," Wang said.