Customers clamor for secondhand luxury goods
Share - WeChat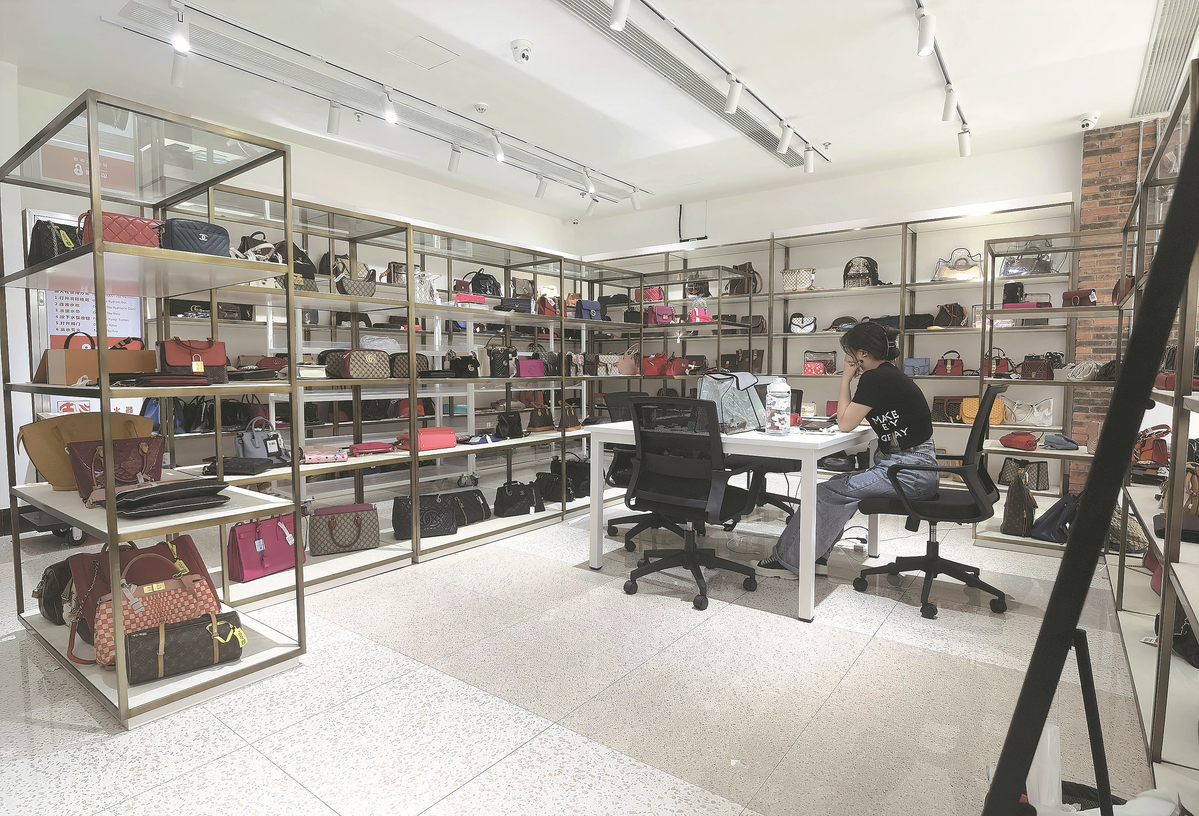 Items in hot demand as market offers significant growth potential
China's booming secondhand luxury market has fueled online and offline sales in recent years as more consumers eye cost-effective top-range products.
Luxury authentication agencies and related training institutions for appraisers are also benefiting from this market momentum.
According to iResearch, a leading provider of online audience measurement and consumer insights in China, the value of idle luxury goods in the nation, including valuable secondhand accessories, jewelry, watches, high-end clothing and handbags, reached 2.87 trillion yuan ($392 billion) in 2020, and is expected to stand at 3.9 trillion yuan by 2025.
The scale of the domestic idle luxury goods retail market grew from 16.2 billion yuan in 2016 to 51 billion yuan in 2020, and it is estimated that the market will reach 208 billion yuan in 2025, indicating huge growth potential.
Feng Peikang, general manager of the China Luxury Exhibition Center in Shanghai, said, "The large stock of idle luxury goods has laid a solid foundation for the long-term development of the secondhand luxury industry, which has gradually transformed its method of trading between sellers and buyers from traditional offline exhibitions to livestreaming platforms."
The center, which opened in August by Douyin and a local secondhand luxury brand Feiyu, and is the first of its kind in Shanghai, offers 85 stands for rent, nine themed livestreaming studios, an authentication center operated in collaboration with China Certification & Inspection (Group) Co, and a consignment service center. To date, it has attracted more than 40 companies to become tenants on monthly contracts.
Those renting stands display their goods on shelves, before selling them to other shops through regular peer trading fairs and to individual customers via livestreaming activities at the venue.
Feng said, "We are trying to create an innovative gathering of shops, different from traditional malls. Our mission is to promote the circular economy in the secondhand luxury market by being the trading center and digital center for secondhand luxury goods and the incubation center for livestreamers."
Offline sales were long the main transaction channel for trading in secondhand luxury goods. In recent years, with the increased popularity of e-shopping, professional online luxury trading platforms have emerged to promote and improve service experience. The number of such platforms has risen rapidly, and they offer high growth potential and commercial value.
Feng said, "Once the secondhand luxury industry becomes more standardized and digitalized, more businesses will join us. We aim to help them avoid being sidetracked, understand the livestreaming industry, and expand the market healthily step by step."
In the past five years, the global secondhand luxury market has grown by 64.7 percent, with leading luxury trading platforms recently recovering well from the COVID-19 pandemic. According to the consultancy Bain & Co, the global luxury market reached 28 billion euros ($27.17 billion) in 2020, with year-on-year growth of 7.7 percent despite the impact of the pandemic.
For example, the annual gross merchandise volume of The RealReal, an overseas luxury trading platform, fell by 2.1 percent in 2020, but rebounded to $1.48 billion last year, registering a net rise of $474 million compared with 2019, before the pandemic emerged.
According to the China Luxury Report 2020-2021 released by the Yaok Research Institute, China became the world's largest luxury market for the first time last year. Its market growth far outstripped that of other countries and regions worldwide for two consecutive years, with its share rising to 30 percent.
Zhou Ting, head of the institute, which observes and studies the luxury industry, said, "The luxury market in China is expanding along with strong growth in the global market, as the nation's high net worth individuals have gradually become the main driving force behind the boom in luxury spending."
China's secondhand luxury goods market has great potential for further development, because more companies are emerging to provide one-stop distribution services, Zhou said.